This post may contain affiliate links for which I earn a small commission at no extra cost to you. For more info, check out my Disclosure Policy. Thank you for your support!
Pancake Day is around the corner and there's only one recipe you need this Shrove Tuesday (that's March 5 this year, FYI) - my gluten free gin and tonic pancakes.
And if that doesn't sell it you enough, they come with a beautiful gin and tonic syrup, and they're even dairy free too. Think I've gone mad? I promise I haven't!
All my life I thought you needed milk, flour and eggs to make the basis of a good gluten free pancake. It turns out, I was mistaken.
Because instead of milk, in fact all you need is a £1 can of gin and tonic from Tesco. Don't believe me? Let me present to you, exhibit A....
But really, gin in pancakes!?
To be honest, I've eaten quite a lot of these gluten free gin and tonic pancakes, and right now I feel great. Giddy, some might say. hic They're light and airy and distinctly naughty - these are the grown up gluten and dairy free pancakes you've all been waiting for. And yes, they really do work!
But how the hell do you make pancakes with a can of gin and tonic? I too was wondering the same thing as I poured the can over flour and eggs thinking: 'I have officially lost the plot. This is it, my blogging career has come to this'.
But whisk it up and the perfect batter forms in front of your eyes - you'd never know it was alcoholic! It looks like a pancake, cooks like a pancake, and tastes like a pancake too!
Even as I was cooking the mixture I was sceptical - perhaps they'll look fine but taste awful, I thought. But believe it or not, the internet was right!
Gin and tonic really does work as a subsitute for milk in pancakes! I'd like to say the cooking gets rid of the alcohol, but honestly I don't know if that is true - so maybe don't eat and drive.
What really makes these though, is the sticky gin and tonic syrup. You just boil up another can of G&T with some sugar and lemon curd, and it creates a sweet and sharp syrup which is perfect poured over a stack of these beauties.
So whatever you're giving up for lent, start it off with a bang with these beautiful gluten free gin and tonic pancakes!
My gluten free gin and tonic pancakes recipe
So yes, you really are going to have to try these gluten free gin and tonic pancakes to believe me! I promise you too will be pleasantly surprised.
I used a basic can of gin and tonic from the supermarket, but feel free to experiment or measure out your own (always risky in our house!). Gin lovers, I guarantee this will make your pancake day complete!
Yield: 2 people
Gluten free gin and tonic pancakes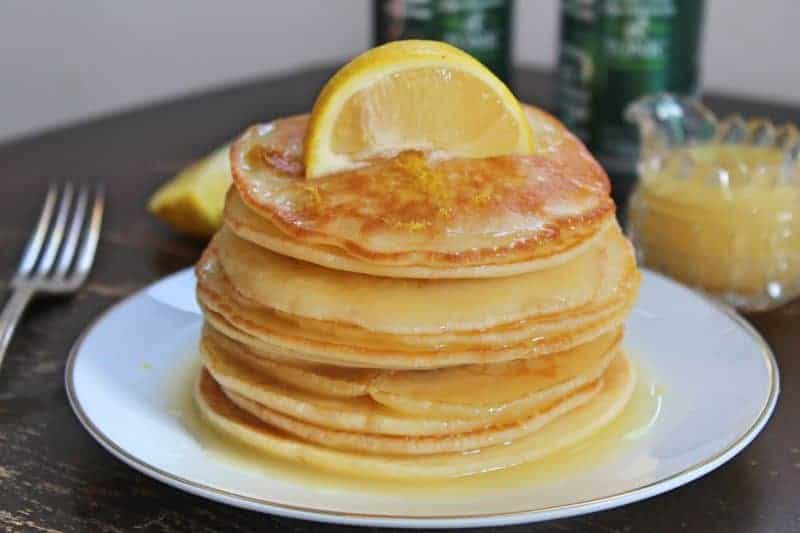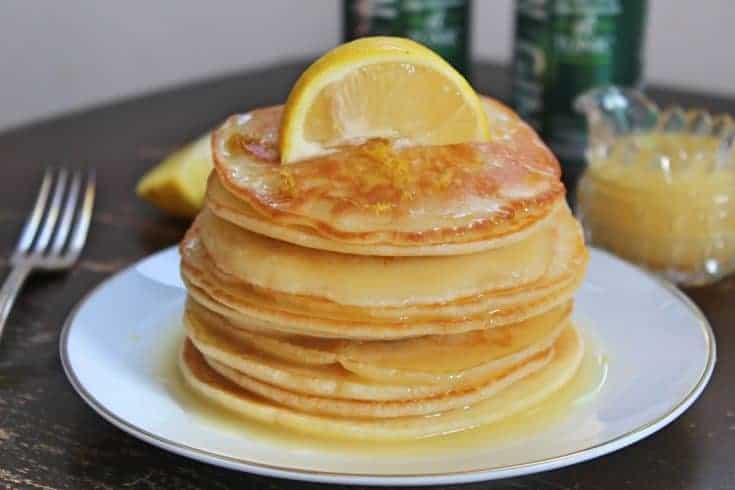 These gluten free gin and tonic pancakes are sweet, sharp and a little bit cheeky. The perfect Shrove Tuesday treat!
Ingredients
For the pancakes:
250 g plain gluten free flour
250 ml can of gin and tonic
2 tbsp caster sugar
1 large egg
1 tsp baking powder
For the syrup:
250 ml can of gin and tonic
2 tbsp lemon curd
2 tbsp caster sugar
Extras:
lemon zest, (optional: to serve)
oil for frying, (I used coconut oil)
Instructions
Add the syrup ingredients to a small pan and place on a high heat. Bring to the boil and then allow to boil for 5-6 minutes until it reduces down and comes a bit thicker. Set aside to cool slightly until serving.
Add the pancake ingredients to a large mixing bowl and whisk until it forms a thick, smooth batter.
Heat a little oil in a large, non-stick frying pan. Bring to a medium heat and then pour a ladle of batter into the pan. If you pan is big enough, you can do several at a time, just try to avoid them merging into one, they will spread a little!
Cook for 1-2 minutes until golden on the bottom, then flip and cook for another minute until golden on both sides. Remove to a plate and keep going until you've got a good stack of pancakes!
Stack the pancakes high, pour over the syrup and finish with some lemon zest. Enjoy straight away while still hot.
Need more Pancake Day inspiration?
If you've got the gluten free Pancake Day vibe and you want to try some other gluten free pancake recipes, here are a few to get you going!
If you do make this recipe please let me know! I'd love to see your photos using #theglutenfreeblogger, share them in my Facebook group or tag me on Instagram. If you have any recipe suggestions, please let me know in the comments what you'd like to see next! Oh – and don't forget to sign up for my e-newsletter where you'll know about all my latest posts and finds!
More gluten free pancake recipes...