Like it or not, Christmas is going to be here before we know it, and the supermarkets are stocking a healthy range of free from festive foods.
Tesco are leading the way by a clean mile at the moment with their range of free from Christmas food.
They seem to be adding more and more products every few weeks, and the latest goodies to appear on the shelves is their gluten free party food range.
I love that some of these treats are in the free from aisle, and other surprise you when you're longingly looking at food you don't think you'll be able to eat.
So, as I've entered full festive mode already (and I'm not even ashamed), here's what I've found so far...
The below product listings have been updated for 2020...
Gluten free chocolate Christmas trees
These gluten free and vegan chocolate Christmas trees are new this year and they look cute!
These little biscuits would make a great snack for the Christmas holidays.
Chickpea popped chips
New in the crisps section for 2020 are these popped chickpea chips.
They sound like something a bit different and they're both gluten and dairy free.
Tesco free from truffle selection
Well, don't these gluten free, dairy free and vegan truffles look a bit swanky!?
I love the packaging and they look like a great gift for someone - or just a treat for yourself.
Free from orange and maple shortbread
It's been really nice to see some gluten free tins of biscuits come out as this is something I've really missed.
I love seeing some gluten free Christmas treats which are in nice tins rather than the usual packahing.
Christmas potato shapes
I had a look at these Christmas potato shapes in the frozen aisle as Tesco and was pleasantly surprised to see they're gluten free.
These would be awesome for a party and they're only £1 a pack too.
Moo Free Oscar the Bear
This gluten free, dairy free and vegan treat would be awesome for children this Christmas.
I love seeing some child-friendly gifts and the Moo Free packaging is looking really cool this year.
The below product listings have been updated for 2019...
Tesco gluten free mini Christmas cupcakes
How cute are these little guys!? These gluten free mini Christmas cupcakes look like the perfect party addition and they're gluten and wheat free.
Tesco gluten free Christmas puddings
Tesco has a selection of Christmas puddings this year - the Tesco finest one sounds lovely with cognac, and the Tesco free from one is vegan as well as gluten free.
Tesco gluten free mince pies
The Tesco gluten free deep filled mince pies are a classic and definitely one to chuck in the trolley when you're doing a food shop. Deep filled and delicious in buttery pastry.
Tesco gluten free Christmas cakes
Whether you want a gluten free iced fruit cake slab, or mini gluten free Christmas cake slices, Tesco has definitely got you covered.
Tesco gluten free chocolate and salted caramel sponge
If you're not a fan of Christmas pudding then this gluten and wheat free chocolate and salted caramel sponge would be the perfect Christmas dinner addition.
Tesco gluten free onion rings
Gluten and dairy free onion rings - THIS IS NOT A DRILL! I was so excited to finally get my hands on these and they're only £1 a pack too. Taste like the real deal - I hope they stay past Christmas too!
Tesco gluten free enrobed cookies & cream
These Free From Enrobed Cookies and Cream are basically chocolate covered gluten free Oreos, and they come in 'normal' or chocolate orange flavours! Okay, they're not in festive packaging, but they've launched with all the Christmas products and they sound fantastic!
Tesco gluten free mini cheese snackers
If you're more excited by savoury treats, I've not seen these gluten free cheese snackers before they look yummy! I feel like this is the kind of treat you'd keep on the coffee table at Christmas and just nibble on while watching trashy television! I'm excited to try them, I love cheese!
Moo Free hazelnut truffles
How lovely do these sound? Gluten and dairy free (and vegan!) hazelnut truffles, found in Tesco! These would make a fantastic gift and it's great to see some more gluten and dairy free gift options. Christmas is chocolate-central so stock up on these now!
Tesco spiced apple tortilla rolls
So these spiced apple tortilla rolls aren't in the free from aisle but they do happy to be gluten free! I love a tortilla roll but I can't quite get my head around these. I'm certainly intrigued!
Tesco gluten and dairy free cheese balls
It was definitely good to find these gluten and dairy free cheese balls in the Tesco free from aisle with the festive crisps. They're £1 a pack and vegan - perfect for party food!
Tesco turkey and stuffing tortilla chips
It's nice to see something a bit different and Tesco really have done that with these gluten free Tesco turkey and stuffing tortilla chips in the shape of Christmas trees! Definitely going to have to try them soon!
Tesco maple bacon tortilla rolls
Mmm, these Tesco free from maple bacon tortilla rolls sound incredible. Rolled tortillas are my favourite for dipping and these are gluten and wheat free.
Nairn's gluten free savoury biscuit selection
I've not seen this gluten free festive biscuit selection from Nairn's, but this was new on the shelves in Tesco. I love the Nairn's oatcakes on a cheeseboard so it's nice to be able to buy a full selection of flavours in one box. I'll definitely be getting this for Boxing Day!
Tesco chocolate orange popcorn
This chocolate orange popcorn from Tesco is another goodie from the 'normal' Christmas aisle which is gluten free. I love the sound of this and will help fix the Chocolate Orange-shaped hole in your life if you have coeliac disease. Perfect for Christmas movie watching!
Tesco caramelised apple crumble pies
Oh HELLO caramelised apple crumble pies from Tesco! How absolutely incredible do these beauties sound? They're gluten, wheat and dairy free and sound like an excellent alternative for those who don't like mince pies. I've seen them getting rave reviews on Facebook too!
Tesco gluten and dairy free truffles
These gluten, wheat, dairy and egg free truffles from Tesco look absolutely gorgeous and the perfect gift!
It's nice to see some fancy dairy free selection boxes out there and I'd love this as a present!
Tesco finest gluten free cookie selection
This cookie selection is another fabulous gift idea - it's gluten and dairy free and found in the festive free from section in Tesco.
I love the sound of the zest blood orange and Belgian dark chocolate cookies!
Gluten free Christmas party food in Tesco
Tesco has a few gluten free options in it's party food which is great news as they're often part of a deal! The mozzarella sticks are amazing, they also do jalapeños stuffed with cream cheese; ham and cheese croquettes; and some chicken tikka bites which are delicious. All in with the chilled party food.
(Note, the below items were from 2018, and I haven't yet checked if they are still available this year)
Gluten free stuffing and pigs in blankets
Tesco have really gone for it in recent weeks with loads of new fresh gluten free items! This garnish pack was my favourite but there were gluten free market-inspired sausages (delicious!), gluten free pigs in blankets and LOADS of gluten free stuffing...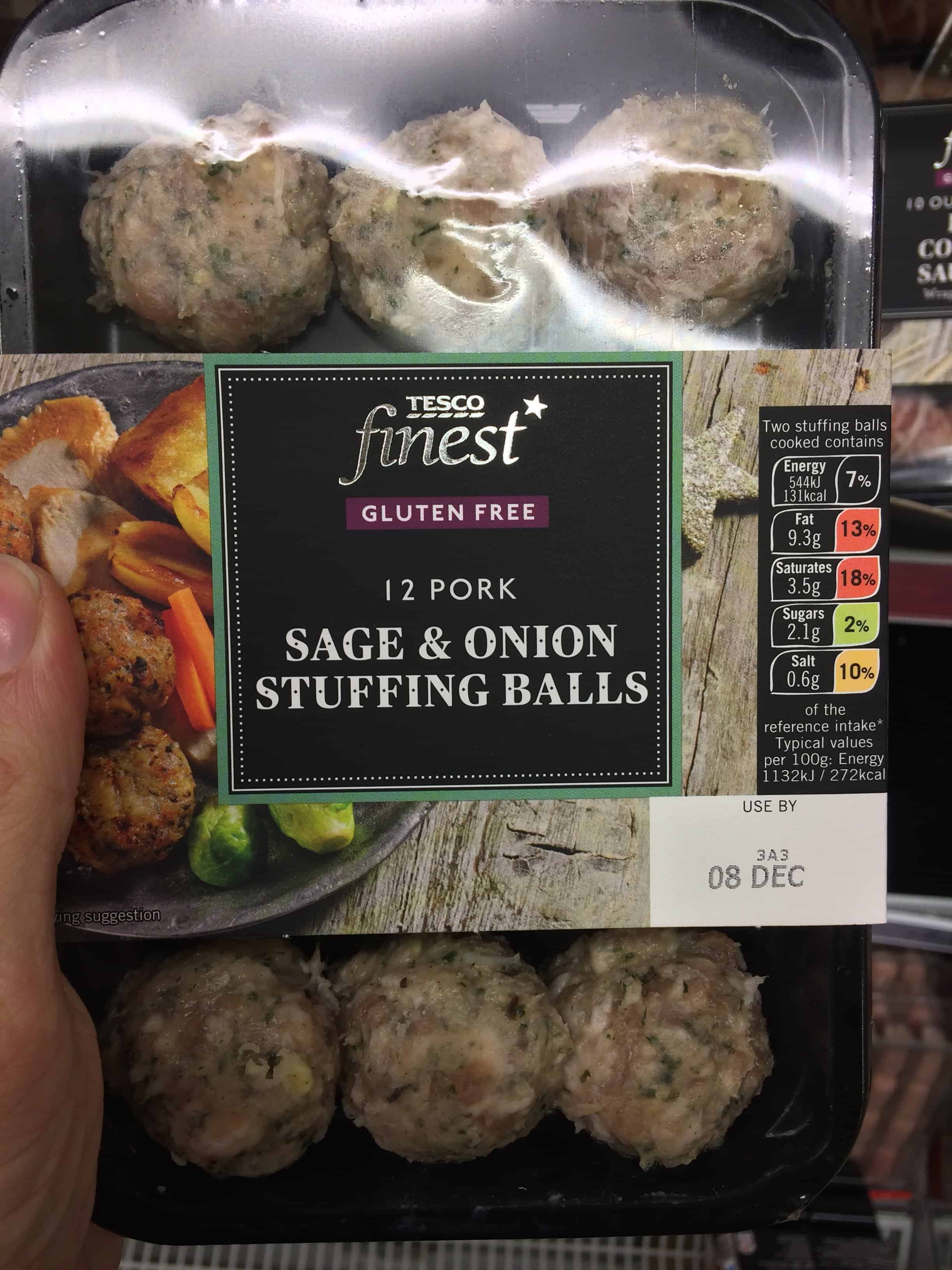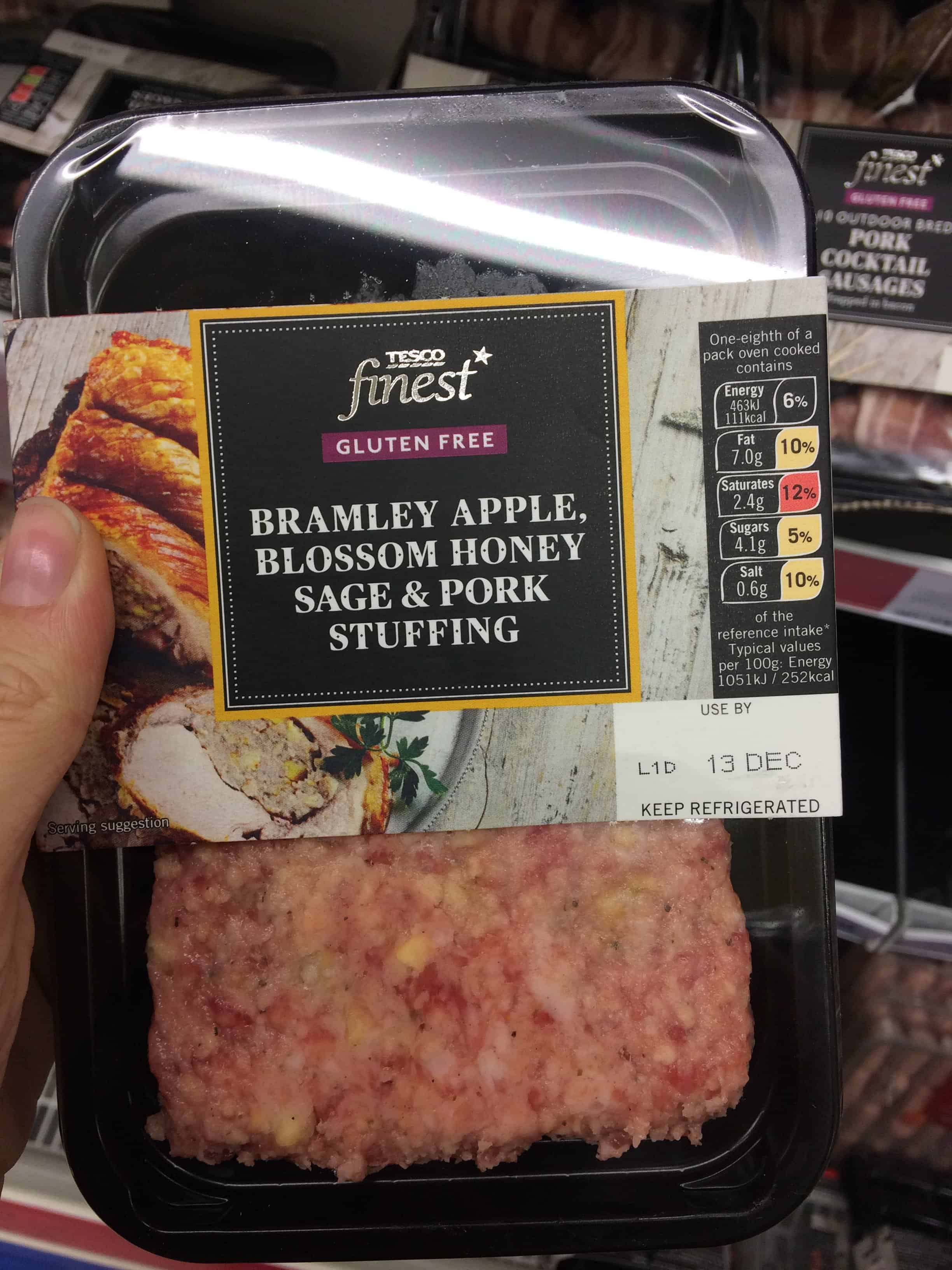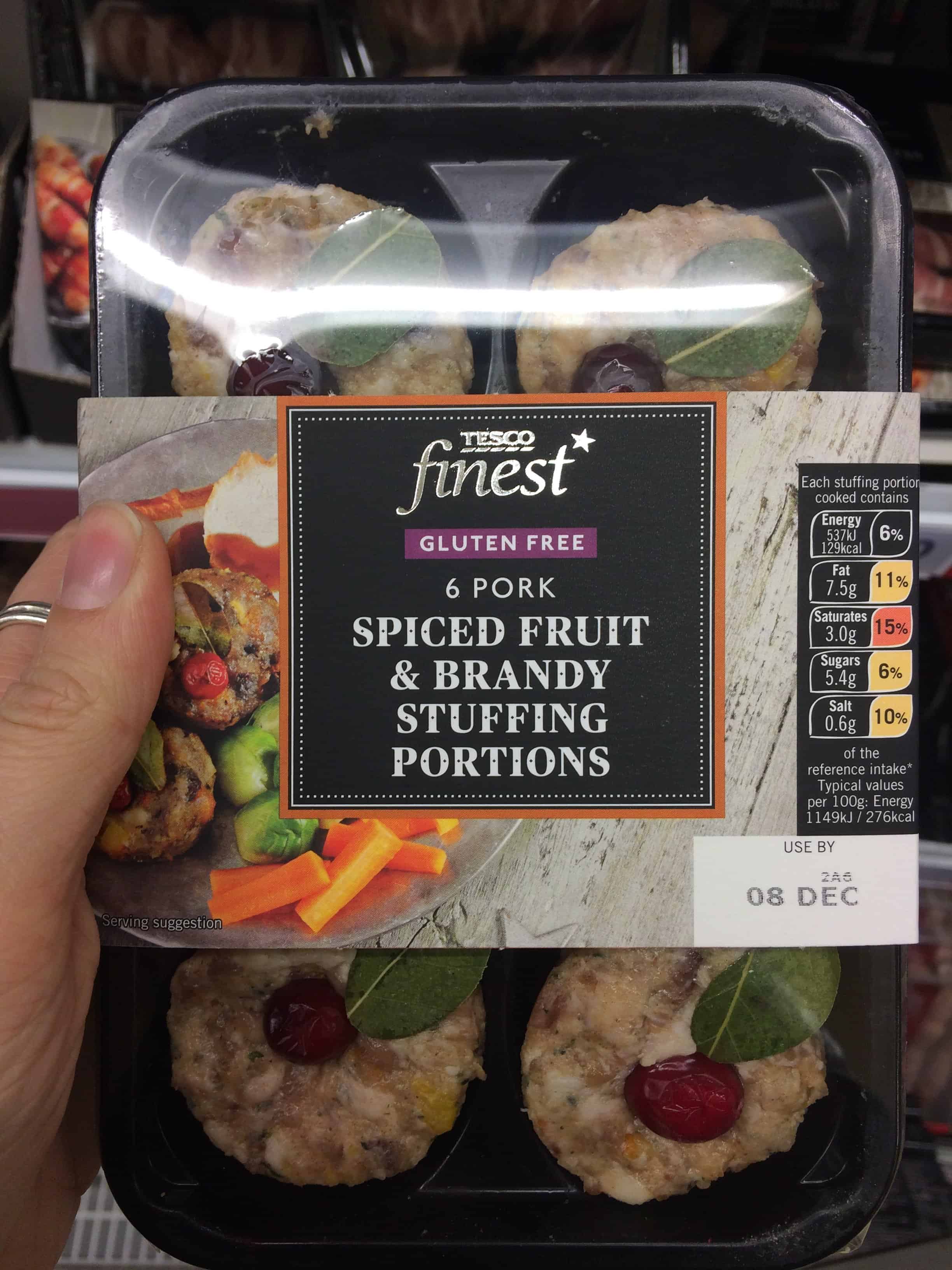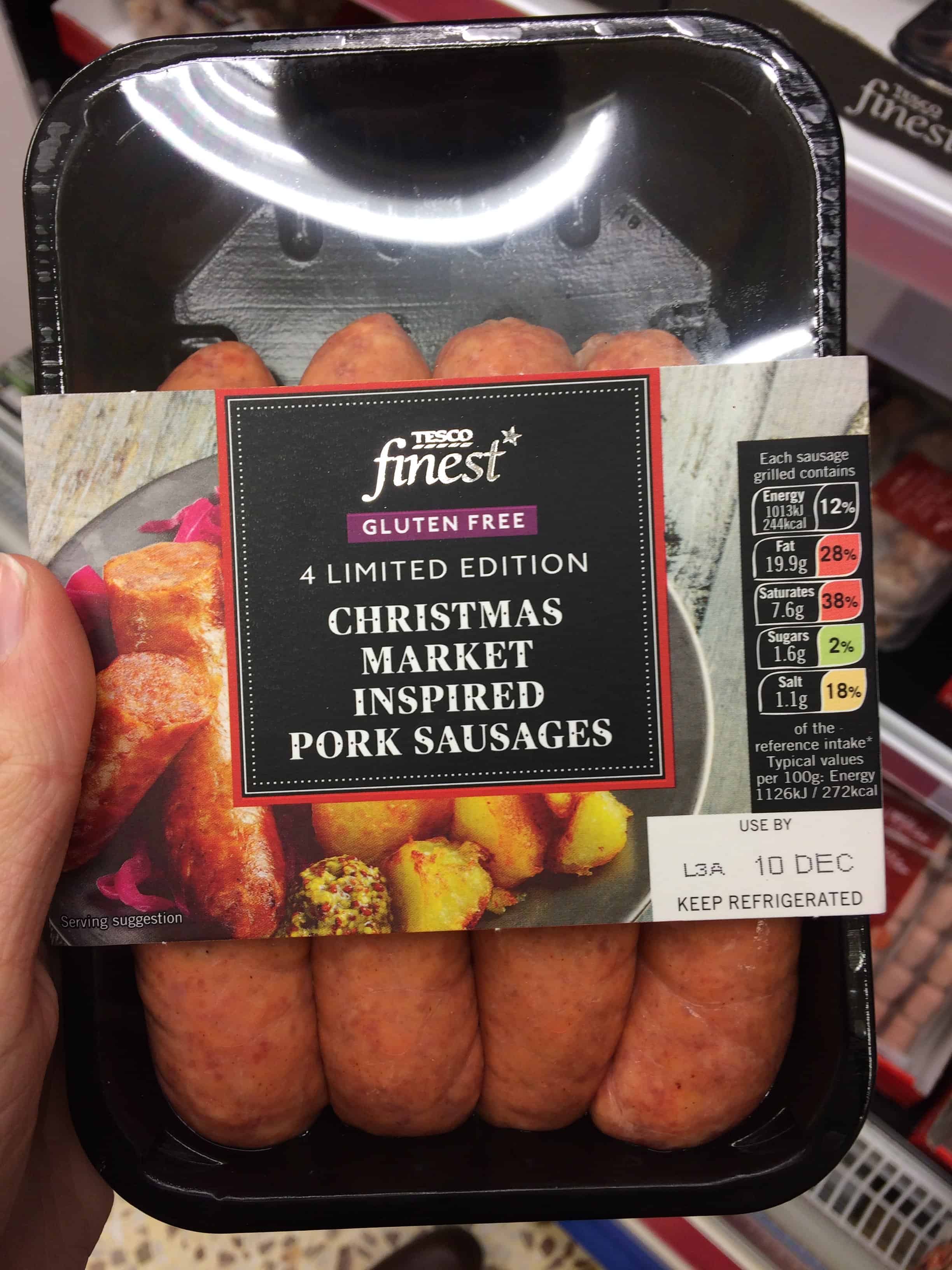 Gluten free roasts - fresh and frozen
The best thing I have found in Tesco so far is all these gluten free roasts! Usually a ready-made roast is out of the question but there is so much to choose from, including fresh chicken crowns and frozen three-bird roasts. All of it with gluten free stuffing!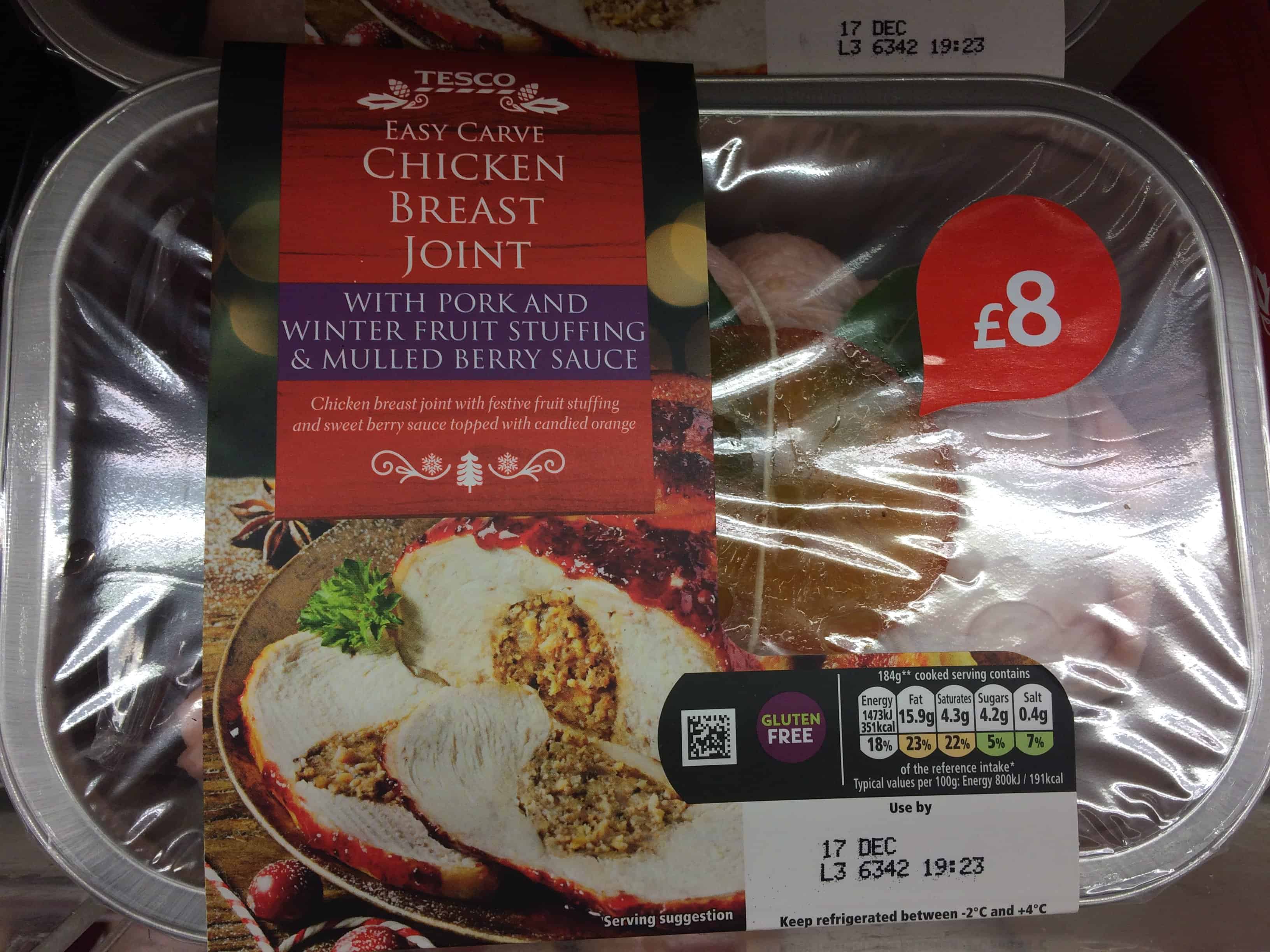 What else can I find in stores?
This is by no means the whole range from either store - obviously Tesco has got the usual selection of gluten free mince pies, Christmas puddings and iced Christmas cakes.
These tend to be either in the free from section or the special free from area in the seasonal aisle.
I've seen loads of other goodies at Asda, Sainsbury's, Marks and Spencer and Morrisons so I'll be planning some more posts like this - please let me know if they are helpful!
What are you most excited to try this Christmas? Will you be waiting to try any festive treats or are you stocking up already? Comment below and let me know!
You might also like...