This post may contain affiliate links for which I earn a small commission at no extra cost to you. For more info, check out my Disclosure Policy. Thank you for your support!
There's nothing quite like a big bowl of gluten free soup when you want comfort food that envelops you like a giant hug. And it's even better when it involves two of my ultimate comfort foods: cheese and bacon. This gluten free potato, leek and blue cheese soup is so easy to make and tastes absolutely delicious. Sprinkled with some crispy bacon croutons, it's just a big bowl of hearty, yummy goodness.
I decided to make this potato, leek and blue cheese soup when Yorkshire Provender got in touch to ask me to take part in The Big Broth campaign with youth homelessness charity Centrepoint. Anyone can take part, and the winner will have their soup made up by Yorkshire Provender and sold in Waitrose stores around the country - how cool is that? Plus 20p from each one sold will go towards helping fight youth homelessness, which makes sipping on this soup even more heartwarming.
I was very kindly sent a big box of delicious, organic, muddy veg from The Organic Pantry, and when I spotted what was in there, I was excited to get stuck in. Buying vegetables from the supermarket, it's easy to forget that this is how vegetables should be - muddy! I had great fun scrubbing and peeling them to reveal their fresh colours, and they tasted so much better than the usual veg I buy.
I've never made a potato and leek soup before and always wanted to try it - but the idea of adding blue cheese was irresistible! I love broccoli and stilton soup, so I thought this would work really well with the earth potato and leek flavours. Turns out potato, leek and blue cheese soup is even better! And with bacon croutons on top = heaven.
Gluten free potato, leek and blue cheese soup
Whether you're making this for a weekend lunch or a lighter gluten free dinner option, it's so easy to throw together. You could also freeze the soup in portions, meaning you can make a big batch and you're sorted for the rest of the week - or if the weather turns!
Yield: 4
Potato, leek and blue cheese soup with bacon croutons (gluten free)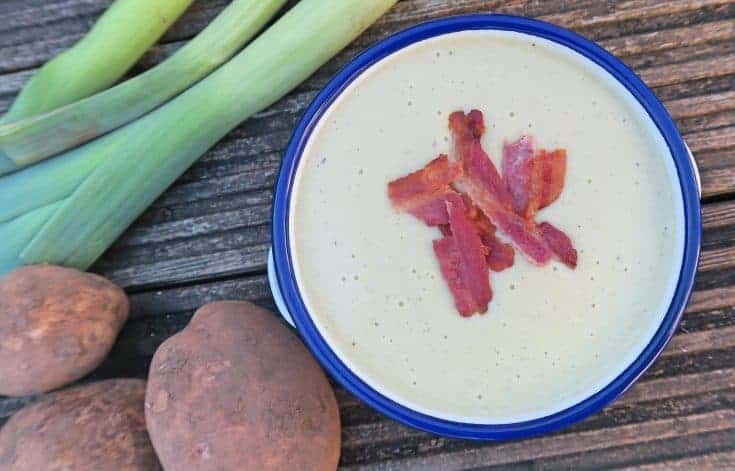 A gluten free potato, leek and blue cheese soup with crispy bacon croutons on top - the ultimate comfort food!
Ingredients
2 small-medium leeks
3 large, white potatoes
1 litre gluten free vegetable stock
1 tbsp olive oil
½ tsp mixed herbs, marjoram, oregano, basil, thyme
Salt and pepper
120 g blue cheese
4 rashers smoked bacon
Instructions
Finely chop the leeks. Peel and chop the potatoes.
Add the olive oil to a large pan and add the leeks. Fry on a medium heat for 2-3 minutes, then add the potatoes. Stir well and fry for another 2-3 minutes.
Add the stock, herbs, salt and pepper, stir, bring to the boil, and then simmer for 20 minutes.
Take off the heat, crumble in the blue cheese and stir well. Blend the soup and it's ready!
For the bacon croutons, lay the rashers of bacon on a tray and place in an oven pre-heated to 200'C for 5-10 minutes until crispy. Break them up into pieces and sprinkle on top of the soup just before serving.
So if you think you've got what it takes to create an awesome soup recipe, make sure you enter The Big Broth competition by the end of March here.
There you have it – my super easy gluten free potato, leek and blue cheese soup! If you give this recipe a go I'd love to see – why not join my new Gluten Free Blogger Facebook Group and post a photo in there? Come on over and say hello, it's a lovely group with some amazing people sharing their gluten free tips and tricks!
If you're looking for some other soup ideas, why not try my curried potato soup with garlic croutons, or my gluten free and vegan beetroot soup? Let me know if there is anything you'd like a recipe for next, I love receiving your suggestions.