This post may contain affiliate links for which I earn a small commission at no extra cost to you. For more info, check out my Disclosure Policy. Thank you for your support!
I love going to Ikea, but one thing that really upsets me is that the infamous Ikea meatballs are not gluten free. Everyone always raves about how good they are, so I decided enough was enough! I set myself on a mission to create a gluten free version of the Ikea meatballs I longed to try. And now, several months and dozens of meatballs later, I think I've nailed it.
Want to get straight to it? Skip to the recipe.
This Ikea meatball dupe recipe has been a labour of love, that's for sure. Through blogging for many years, I've learned the value of recipe-testing to make sure all the recipes I bring you are spot on. But I think this might the one gluten free recipe I've tried the most! We've eaten gluten free meatballs once a week pretty much since November, so that just shows how much I wanted to nail these!
Perfecting my gluten free Ikea meatballs
The theory behind the infamous Ikea meatballs is a pork-based meatball in a thick and creamy gravy. It's served with mashed potato and a side of ligonberry sauce, though I used some cranberry sauce leftover from Christmas and the combination was INCREDIBLE. As I get older, I'm starting to really love fruity flavours in savoury dishes. It used to be something I detested but now I absolutely love it. There's something about the creamy, rich sauce which is truly balanced out by a hint of sweetness.
Finding the right ingredients for the sauce was really key. A lot of Ikea meatball recipes I found online used a thick, double cream, but in the end I got the best result from crème fraîche. It has all the creaminess, but it's not as heavy. Ideal, because it means you feel you can eat more!
Find a good beef stock for the recipe is also important. You could make your own, if you're feeling really intrepid, by boiling beef bones for many hours. You could also, if you're not feeling so adventurous, use a beef stock cube such as Knorr (see my guide to gluten free stock cubes here).
I opted for the lazy option I'm afraid, with a tub of ready-made beef broth from Sainsbury's (I found it with the beef and the chilled gravies). I found this gave the best flavour and I'd recommend you try it if you're giving this recipe a go.
My gluten free Ikea meatballs dupe recipe
So if, like me, you're feeling left out after an Ikea trip, give this recipe a try! I've never had Ikea meatballs so I can't compare, but I'm confident they're pretty close - if not better! Feed them to the gluten-eaters in the house and see if they can tell they're gluten free!

Yield: 4 people
Gluten free Ikea meatballs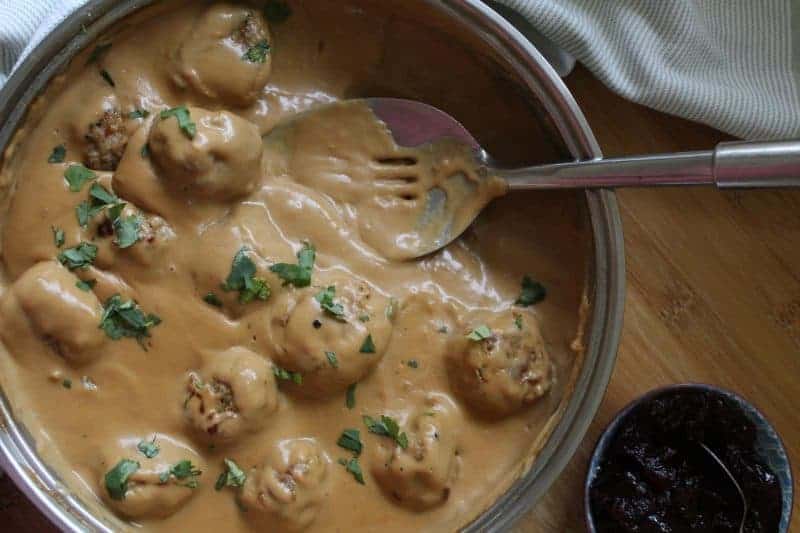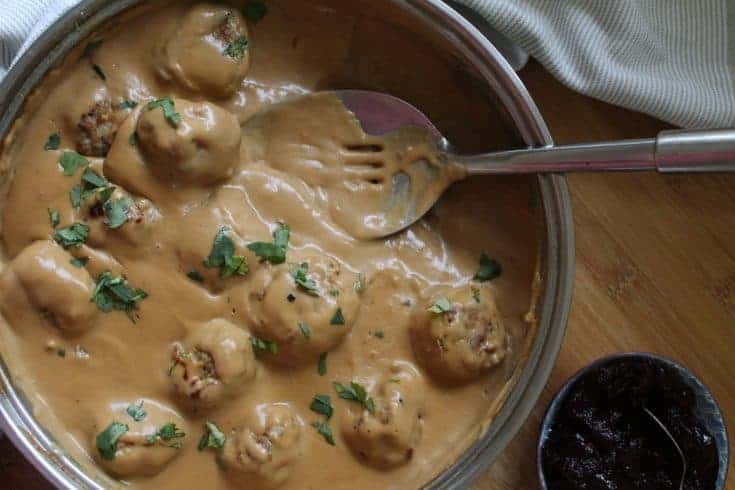 Ingredients
For the meatballs:
500 g pork mince, (I found the 20% fat mince worked best)
1 clove garlic, (crushed)
3 slices gluten free bread
1 egg, (beaten)
1 tsp dried parsley
¼ tsp allspice
Salt and pepper, (to taste)
20 g butter
1 tbsp olive oil
For the sauce:
20 g butter
3 tbsp plain gluten free flour
450 ml beef broth
180 ml crème fraîche
100 ml water
1 tbsp gluten free Worcester sauce
1 tsp dijon mustard
Salt and pepper, (to taste)
To serve:
Cranberry sauce
Mashed potato
Fresh parsley
Instructions
For the meatballs:
Preheat the oven to 180'C and set a baking tray aside.
Add the bread, parsley, allspice and salt and pepper to a food processor and whizz until in crumbs. Add to a large mixing bowl along with the pork mince, crushed garlic and beaten egg. Using your hands, mush together until thoroughly mix and then roll into approx 16 golf-ball sized balls. (This worked out around 40g per ball, if you want to be precise!)
Add the butter and olive oil to a large pan and heat until the butter had melted. Add the meatballs to the pan and fry on a med-high heat, turning until the balls have browned on the outside. Transfer to the baking tray and place in the middle of the oven for 15-20 minutes. Set the pan aside - you can use this for the sauce and keep all the lovely flavours from the meatballs, so don't wash it up!
For the sauce:
Melt the butter in the pan, and once melted add the gluten free flour. Stir and cook for around 1 minute.
Slowly add the beef stock, crème fraîche and water to the butter/flour mix, whisking until it forms a smooth, thick sauce. Bring to the boil then turn down to a low heat. Add the Worcester sauce and mustard and season generously with salt and pepper to taste.
To serve:
When the meatballs are done, remove them from the oven and add to the sauce. Stir gently to ensure they are coated. Sprinkle with chopped, fresh parsley and serve with mash potato (or rice if you prefer) and some cranberry sauce on the side.
Need some more gluten free meal ideas?
Still need some gluten free meal inspiration? Why not try my…
If you do make this recipe please let me know! I'd love to see your photos using #theglutenfreeblogger, share them in my Facebook group or tag me on Instagram. And if you have any recipe suggestions, please let me know in the comments what you'd like to see next! Oh – and don't forget to sign up for my e-newsletter where you'll know about all my latest posts and competitions first!