This post may contain affiliate links for which I earn a small commission at no extra cost to you. For more info, check out my Disclosure Policy. Thank you for your support!
This week I was very excited to be invited to the launch of the new Deliciously Ella book at The Mae Deli in London. Deliciously Ella with friends came out on Thursday and is designed around Ella's now world-famous way of 'healthy recipes' to be shared with everyone. I made a little video of the launch and my review, and scroll down for more thoughts too!
Deliciously Ella With Friends launch
The launch itself was good fun - it was a bit of an epic trip from Devon to London and back in an evening, but my bestie Lauren came with me which made it even better. The food served at The Mae Deli was all amazing (the broccoli salad was out of this WORLD) and the staff were all lovely. We had a good chat with Ella too and she seemed really nice, if a little overwhelmed!
After we had munched our way through several of the delicious brownies on offer and said hello to a few people, we grabbed out goody bags and headed home. I was really happy we got a copy of the book, as well as some of Ella's energy balls which are so tasty.
Deliciously Ella With Friends review
The idea of the new Deliciously Ella book is that it has plans for 'feasts' with various recipes in each, so that you can put a banquet on for all your friends. There is a range of breakfast, main meals, sides and sweets, and the photography as usual is appealing.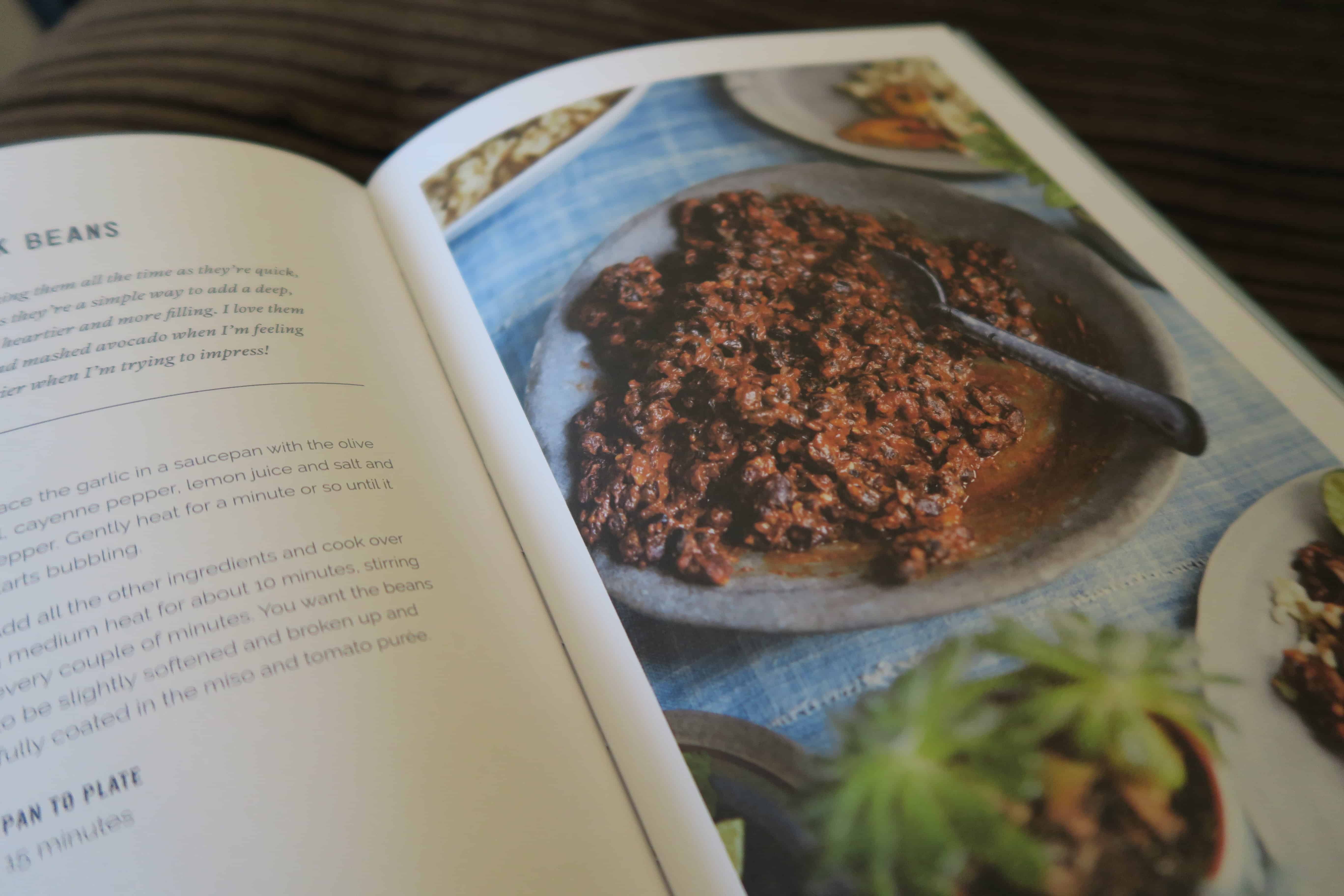 The good thing about sharing these feasts with all your friends, is that you won't notice you all absolutely honk of garlic. I LOVE garlic, don't get me wrong, but this book uses a lot of it. The garlicky black beans was the first recipe I tried (though I used mixed beans as it was all I could find). It was absolutely delicious, and really easy and quick to make.
I like the fact this book seems to have easily accessible ingredients. I felt the first Deliciously Ella book had a lot of things which were difficult to find - whether the ingredients are just more popular now, or whether this book is simpler, I'm not too sure.
I also tried out the Deliciously Ella blueberry pancake stack (minus blueberries, because I had none) which is a vegan pancake mix using chia seed 'egg'. I thought this gave the pancakes a lovely texture and I really liked the flavours - they were very sweet.
The recipe doesn't state how many it serves (it says it makes 12, I could happily eat that!) but even dividing it into six portions came out about 40g of carbs (mainly sugar) a piece, so it's not something I would have often, and I would reserve it for post-workout.
Despite what you might think of Deliciously Ella and her methods, there's no denying the recipes I tried in this book are tasty. I wouldn't recommend living by her ways of eating, and I probably wouldn't touch most of the breakfast ideas as they are packed with fruit and sugar.
That being said, there are a lot of nut free recipes and pretty much all of her recipes are gluten free, so it's great when you want inspiration for something different. I eat meat at pretty much every meal, but it has given me some ideas for sides and vegetarian options too.
I had a really great time at the book launch and it was so good to get out and have a bit of an adventure! I have some more exciting London adventures planned this year, so if there is anywhere you think I simply HAVE to visit, please let me know!
Have you tried the Deliciously Ella With Friends book? What did you think? Comment below with your thoughts or share them on my  Facebook, Twitter or Instagram pages.