This post may contain affiliate links for which I earn a small commission at no extra cost to you. For more info, check out my Disclosure Policy. Thank you for your support!
This post is sponsored by Genius Gluten Free.
Do you ever find that sometimes the simplest gluten free pasta recipes are the best? That is certainly true of my gluten free arrabbiata recipe. Packing a chilli punch with a rich, garlicky tomato sauce, this recipe takes minimal time and effort to put together, and is the perfect weeknight meal. It's gluten free but you can easily adapt it to be dairy free and vegan too.
Want to get straight to it? Skip to the recipe.
Arrabbiata means 'angry' in Italian, which is down to the spicy kick you get from the chilli flakes. It's essentially a chilli and garlic-based tomato sauce, but mixed with a gluten free pasta like the Genius Gluten Free Protein Penne, it is absolutely delicious. It's the perfect recipe to make for those busy weeknights when you want something healthy and fulfilling, but just don't have the time for anything elaborate. You could even cook up a big batch of the sauce and then freeze it in portions, ready to heat and add to your pasta as desired.
Perfecting my gluten free pasta recipe
So what makes my gluten free arrabbiata recipe so special? For starters, it's something I've been making for years, and it always goes down well in our household. You know those recipes you spend years perfecting until it becomes a weeknight favourite? It's one of those.
And there are a few things I've learnt along the way to getting this to pure perfection. For starters, you need to be patient when you cook the garlic and chilli at first - fire up the heat too much and it will burn, taking away those lovely flavours. I also use a mixture of butter and olive oil as I think this adds a depth of flavour. To make this recipe vegan, all you have to do is swap the butter for a vegan butter alternative, or add an extra tablespoon of oil instead. Oh, and use dairy free parmesan to garnish.
It also pays to invest in a good tin of tomatoes when making this arrabbiata. I'm guilty of always going for the cheapest I can find, but pay a little extra on this occasion for some finely chopped tomatoes and you won't regret it. It will add a much nicer texture to the sauce and change the flavour completely.
The Genius Good for the Gut range
I chose this gluten free arrabbiata to go with the Genius Gluten Free Protein Punch Penne, as it's so easily adaptable. It has a really nice flavour and cooks a lot quicker than other gluten free pasta. Just 6-7 minutes in a pan of salted water with a little olive oil makes for the perfect al dente pasta. Penne is my favourite pasta shape but Genius also does a 'Fibre Fusilli' version too - the same pasta in a different shape. Both 150g packs offer two servings, with an impressive 14g of protein each.
Genius' Good for the Gut range focuses on the addition of pre-biotic fibre, which in this comes from the chicory root inulin. Fibre is important for a healthy gut, and when you have coeliac disease it's important to make sure you take extra care of your insides. Because a gluten free diet eliminates a lot of grains, it means people with coeliac disease can often miss out on nutrients they need. That's why products like this, with added fibre, can really help. You can pick up the range in Tesco, Sainsbury's, Asda, Morrisons, Waitrose and Ocado.
My gluten free arrabbiata recipe
So without further ado, here it is! I really hope this recipe is enjoyed as much in your house as it is in ours! The recipe is based on two people, but you can easily double the quantities to feed four. And once you've tried it once, why not try it again with some added chicken, prawns or roasted veg?
Yield: 2 people
Gluten free arrabbiata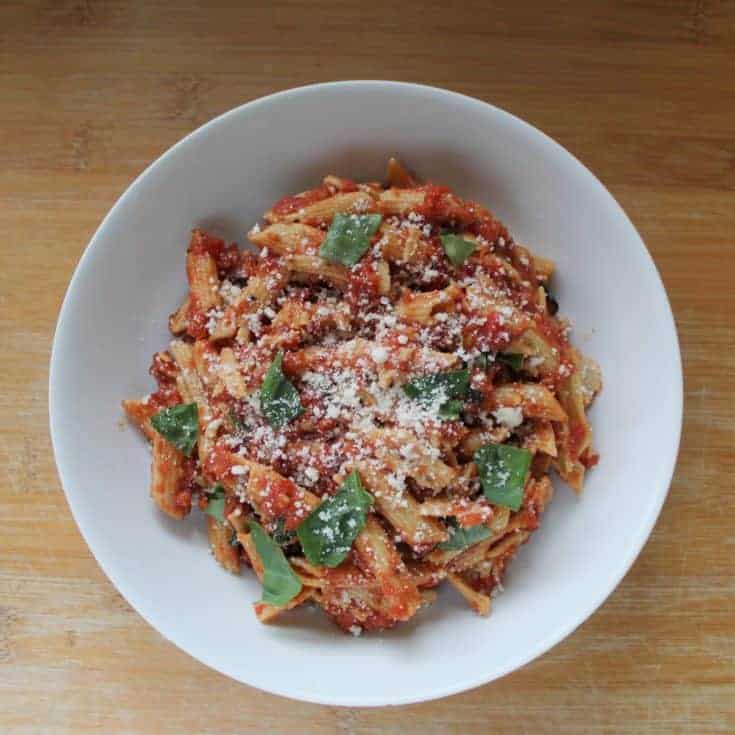 This gluten free arrabbiata is a super easy recipe to make. A rich tomato, garlic and chilli sauce made with gluten free pasta and garnished with parmesan. Can be adapted to be dairy free/vegan too.
Ingredients
150 g Genius Gluten Free Protein Penne
1 tbsp virgin olive oil
15 g butter, (or vegan butter)
400 g finely chopped tin of tomatoes
½ tbsp chilli flakes, * see notes
2 cloves garlic, (crushed)
½ tsp dried basil
1 tbsp balsamic vinegar
1 handful fresh basil, (torn)
1 tbsp parmesan, (or vegan parmesan)
Instructions
Melt the butter and olive oil in a large flat-based pan on a low heat. Once melted add the garlic, chilli flakes and dried basil. Fry gently on a low heat, stirring occasionally, for 2-3 minutes until the garlic softens.
Add the tinned tomatoes and balsamic vinegar to the pan. Stir, bring to the boil then simmer on a low heat for 15 minutes.
Meanwhile make the gluten free pasta as per the pack instructions. I added it to large pan of boiling, lightly salted water with a glug of olive oil and cooked for 6-7 minutes, then strained. Reserve 2 tbsp of the pasta water.
Add the torn basil to the tomatoes and stir through. Then add the pasta water and the strained pasta and gently stir until coated. Serve immediately and garnish with some extra torn basil and the parmesan.
Notes
*The amount of chilli makes this fairly spicy - if you like it mild just add 1 tsp of chilli flakes. Add more if you like it really hot!
Need some more gluten free meal inspiration?
If this recipe has got your tastebuds flowing and you want some more meal inspiration, check out some of my other gluten free recipes!
If you do make this recipe please let me know! I'd love to see your photos using #theglutenfreeblogger, share them in my Facebook group or tag me on Instagram. If you have any recipe suggestions, please let me know in the comments what you'd like to see next! Oh – and don't forget to sign up for my e-newsletter where you'll know about all my latest posts and finds!