This post may contain affiliate links for which I earn a small commission at no extra cost to you. For more info, check out my Disclosure Policy. Thank you for your support!
If you're a chocolate lover or have a real sweet tooth, these gluten free Easter rocky roads could be your dream no-bake recipe.
With both caramel centred and crunchy golden eggs, this rocky road is not only super decadent and delicious, it's also beautiful to look at!
The inspiration for this recipe actually came about when I was working a weekend shift, and I was starting to stress out about not being able to bake anymore recipes for you guys.
My friend suggested I think of a 'no bake' recipe instead. Et voila, these gluten free Easter rocky roads were born, in my office kitchen, with only a fridge and a microwave to hand. Genius.
So what makes these Easter rocky roads different? Well, for starters, instead of marshmallow chunks, these have both caramel eggs and golden eggs in them.
When I saw both these Galaxy eggs I knew I had to do something with them, having already made gluten free Mini Egg blondies and gluten free Creme Egg brownies. In fact, I might just work my way through all the gluten free Easter eggs!
The ultimate Easter rocky road recipe
Because there's a lot of sweetness in this recipe, I used dark chocolate in this Easter rocky road recipe. But you could definitely mix it up and use milk chocolate, or even use white chocolate if you want it really sweet!
I also used digestive biscuits in the recipe but it would work with any leftover gluten free biscuits you have. Why not try shortbread or make it super chocolate-y with chocolate chip cookies or even gluten free bourbons? There are so many options!
The great thing about this recipe is that it is super flexible. If you wanted to you could use Mini Eggs instead of the golden eggs too, but I wanted these to look a little bit glitz and glam.
The chocolate stars also make them look extra special, just make sure you find some that are gluten free. You could drizzle this with white chocolate too, if you wanted to make them really fancy.
My gluten free Easter rocky road recipe
So here it is, THE recipe for chocolate lovers this Easter! It's no-bake and so easy.
You can throw this together in 10 minutes and either leave it for a couple of hours or, if you're patient than me, make it the night before. It's also a brilliant recipe to make with kids - they'll love melting down the chocolate and mixing it all together.
Perfect for licking the bowl after too!
Yield: 16 squares
Gluten free Easter rocky roads with caramel and golden eggs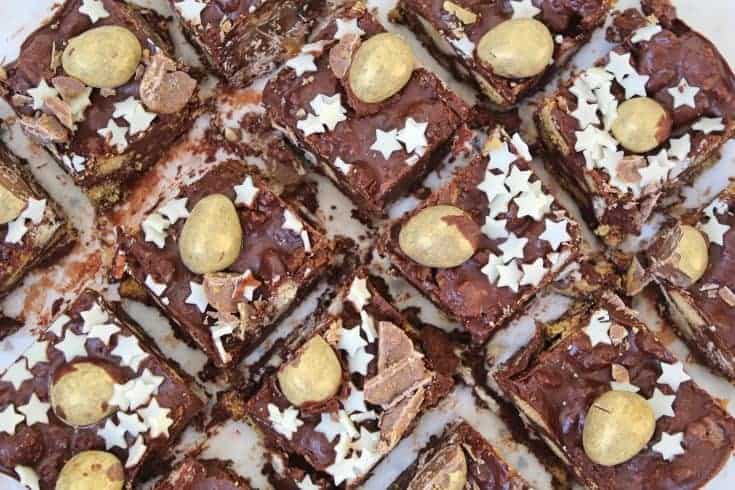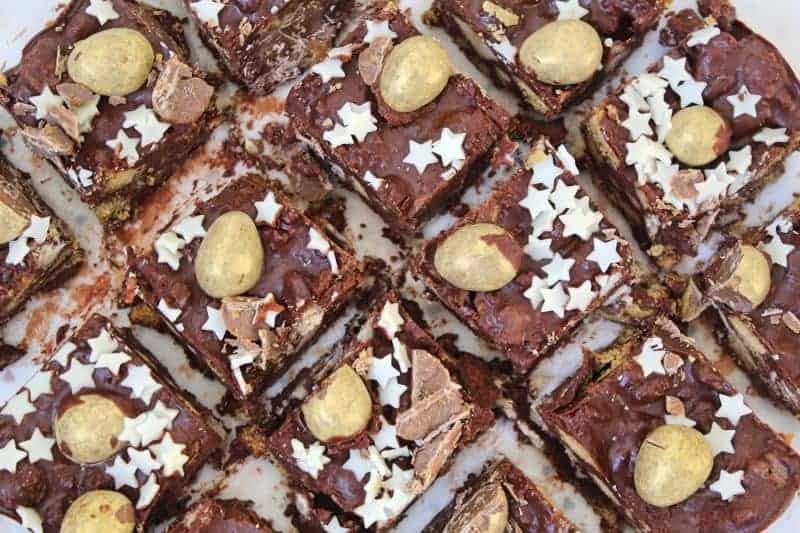 These gluten free Easter rocky roads are the ultimate sweet treat! Packed with biscuit crunch, lashings of chocolate and caramel centred eggs.
Total Time
1 hour
10 minutes
Ingredients
500 g gluten free digestive biscuits
300 g dark chocolate
100 g unsalted butter
2 80g packs Galaxy golden eggs
1 80g pack Galaxy caramel eggs
White chocolate stars, (optional)
Instructions
Break up the chocolate, add the butter, and melt in the microwave (in 30 second bursts) or in a bowl over hot water.
Crush the biscuits using a rolling pin (you don't want them too chunky, but you also don't want them to turn to dust!) and add to a large mixing bowl. Add one pack of the golden eggs and all of the caramel eggs.
Pour over the melted chocolate/butter mix and stir until everything is fully coated.
Line an 8-inch square baking tin with baking paper. Pour in the mixture and press into the corners, pushing down to flatten.
Evenly scatter the second pack of golden eggs over the mix and press down gently. Sprinkle with chocolate stars and then place in the fridge until set (at least an hour). Cut into 16 squares and enjoy!
Need more Easter baking inspiration?
If you've got the gluten free Easter baking vibe and you want to try some other recipes, here are a few to get you going!
If you do make this recipe please let me know! I'd love to see your photos using #theglutenfreeblogger, share them in my Facebook group or tag me on Instagram. If you have any recipe suggestions, please let me know in the comments what you'd like to see next! Oh – and don't forget to sign up for my e-newsletter where you'll know about all my latest posts and finds!
More Gluten Free Easter Recipes