This post may contain affiliate links for which I earn a small commission at no extra cost to you. For more info, check out my Disclosure Policy. Thank you for your support!
I love a gluten free carrot cake, but my gluten free carrot and hazelnut cake with orange and cream cheese frosting takes it to a whole new level!
The hazelnuts provide an excellent crunch and the tangy orange frosting perfectly complements the cake. It's too good not to make!
This recipe is a twist on a classic gluten free carrot cake (like my gluten and dairy free carrot cake recipe here) with the addition of the chopped hazelnuts.
I normally use pecans or walnuts in carrot cake but these gave a lovely flavour and texture to the bake. Because I used quite finely chopped hazelnuts they added a hint of crunch without any big chunks.
I also wanted a cream cheese frosting for my gluten free carrot cake but thought making it an orange flavour would be a nice twist.
This gives the icing a really subtle colour and a bit of a tang - perfect to complement the sweetness of the cake.
Using cream cheese makes the frosting really smooth and moreish. I accidentally made too much the first time I made this gluten free carrot cake and ended up just eating the rest from the bowl!
A twist on gluten free carrot cake
So why a carrot cake? Well, for starters I wanted to make a loaf cake, because they're just so easy to throw together and decorate.
No faffing around with sandwiching layers together or anything like that.
Simply bake up the cake, cool, and then top with the frosting before slicing up. It's also a really simple recipe, in one bowl - just cream the butter and sugar, add the egg, flour and spices, then fold in the carrots before pouring into the tin.
Carrot cake has always been one of those cakes I've looked longingly at when I went into Costa, and wished was gluten free. I love the warm, spiciness of the cake contrasted with the creamy frosting.
I know there's a big debate as to whether to add sultanas or not. Personally I don't like them and think the chopped nuts are enough for me. You could add some if you like, but they won't be going near my cake!
My carrot and hazelnut cake with orange frosting
So here is my gluten free carrot cake recipe with a twist! I hope you enjoy it!
If you wanted to make this recipe dairy free you could substitute the butter for your favourite vegan alternative and use a dairy free cream cheese in the frosting.
I love seeing it when you make my recipes, so don't forget to tag me on Instagram and use #theglutenfreeblogger if you give this a go!
Gluten free carrot cake with hazelnut and orange frosting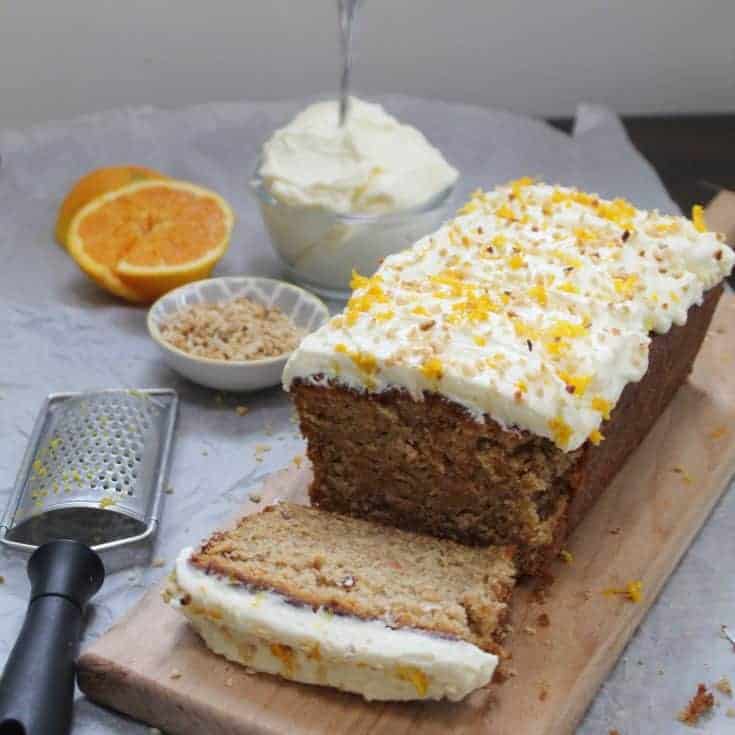 My gluten free carrot cake recipe is packed with crunchy chopped hazelnuts and topped with an orange cream cheese frosting.
Ingredients
For the cake:
140 g unsalted butter, (softened)
125 g light brown sugar
75 g caster sugar
220 g carrots, grated, (approx 2 medium carrot)
2 large eggs
200 g gluten free self-raising flour
1 tsp baking powder
¼ tsp xanthan gum
1 tsp ground cinnamon
1 tsp mixed spice
50 g chopped hazelnuts
For the orange cream cheese frosting:
50 g icing sugar
50 g unsalted butter, (softened)
100 g full fat cream cheese
1 tsp orange juice
½ orange (zest only), (use the other half to decorate)
25 g chopped hazelnuts
Instructions
For the cake:
Preheat the oven to 180'C/Gas 4. Grease and line a 2lb baking tin and set aside.
Add the butter, brown sugar and caster sugar to a large mixing bowl and beat with an electric whisk until pale and creamy (approx 1-2 minutes). Add the eggs, flour, baking powder, xantham gum, cinnamon and mixed spice and beat until combined and smooth.
Add the grated carrots and chopped hazelnuts and fold in using a wooden spoon or spatula until evenly distributed. Pour into the lined baking tin, smooth out the top and then bake for 50-55 minutes until a skewer comes out of the middle clean. Leave to cool completely on a wire rack before turning out of the tin and decorating.
For the frosting:
To make the frosting, add all of the ingredients to a large mixing bowl and beat with an electric whisk until it starts to thicken and is smooth. Chill in the fridge for around 30 minutes before icing the cake.
Using a spatula or knife, smooth the frosting over the cake until it has a thick, even covering. Decorate with the hazelnuts and any leftover orange zest before slicing and serving.
Notes
This cake will keep for 2-3 days in an airtight container. Top tip: When making the frosting, you might want to use a fork to 'mash' the ingredients together before beating, so you don't end up in an icing sugar cloud!
Need some more gluten free baking inspiration?
Want to have a go at some of the other gluten free baking recipes on the blog? Give some of these other gluten free cake recipes a try! There are plenty to choose from - here are a couple to get you going:
If you do make this recipe please let me know! I'd love to see your photos using #theglutenfreeblogger, share them in my Facebook group or tag me on Instagram. And if you have any recipe suggestions, please let me know in the comments what you'd like to see next! Oh – and don't forget to sign up for my e-newsletter where you'll know about all my latest posts and competitions first!