Who doesn't love gluten free carrot cake, with sweet dairy free cream cheese frosting? Carrot cake is always the sweet treat I jealously watch my friends eat when we meet for coffee, and wish it was gluten free. So I was pleased when, after I made my gluten free millionaire's shortbread last week, I asked what people wanted next – and gluten free carrot cake was one of the options.
I was initially going to make this just a gluten free carrot cake, but after realising the recipe would be dairy free anyway, it seemed only right to make a dairy free cream cheese frosting to go on top. I haven't experimented much with dairy free cheese, but I know a lot of my readers cannot eat dairy and I was really pleased with how this turned out.
I wanted to include walnuts in my gluten free carrot cake, to add a bit of a crunch to the texture, but you could substitute these for pecans if you prefer. Personally, pecans are my favourite nut, but I love the woody flavour the walnuts bring to this recipe. Paired with the flecks of vibrant orange carrot, it makes this gluten free carrot cake a delight to look at, as well as devour!
My next dilemma was dried fruit – to add it, or not? I have seen some carrot cakes with sultanas or raisins, and some without, and a quick Google search didn't really help me come to a conclusion! So I took to Twitter for an answer! It was a close call, but it seemed most people preferred the 'no dried fruit' option in a gluten free carrot cake. If you really wanted, you could add a handful of dried fruit to this recipe though.
I wanted to give my carrot cake a bit of a rustic look, so you could see bits of the cake beneath the icing. However, you could make this recipe with one-and-a-half-times the measurements for the icing, and you'd be able to coat it completely.
Because you're using dairy free spread in place of butter, the icing can be a bit soft, so once coated it helps to put the cake in the fridge for half an hour-or-so, to firm it up a little. If you're not dairy free, then you could substitute the spread for unsalted butter, and use normal, full-fat cream cheese instead.
I was so please with how this gluten free carrot cake turned out, and it's super simple to make! It would be perfect for a coffee morning, or paired with a nice cuppa for afternoon tea. It's definitely one to share with your friends and family, so get baking and share the love!
My gluten free carrot cake recipe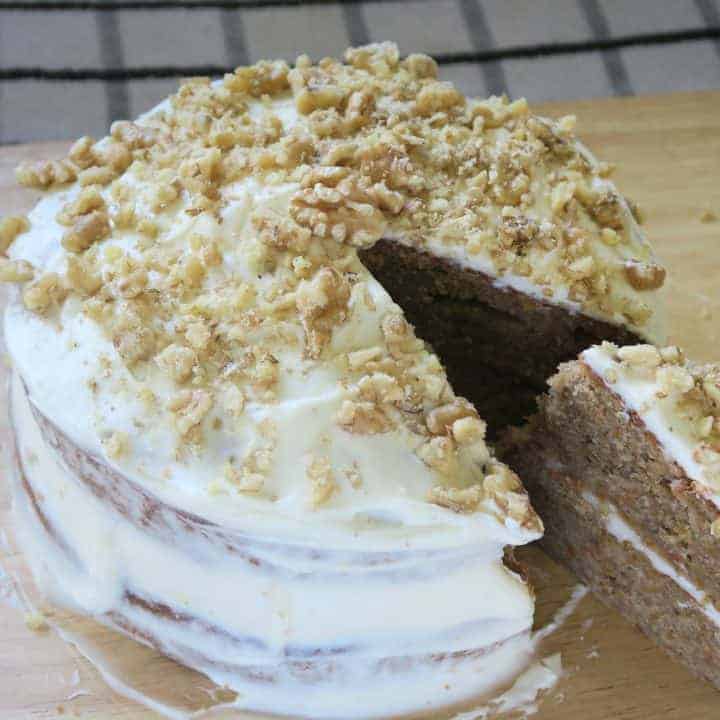 Gluten carrot cake with dairy free cream cheese frosting
A simple and elegant gluten free carrot cake with a dairy free cream cheese frosting, sprinkled with crunchy walnuts.
Ingredients
For the cake
250 ml sunflower oil
4 large eggs
225 g light muscovado sugar
200 g carrots, coarsely grated
300 g gluten free plain white flour, I used Dove's Farm Freee
2 tsp baking powder
1 tsp allspice
1 tsp ground ginger
1 tsp cinnamon
80 g walnuts, chopped or ground into chunks in a pestle and mortar
For the frosting
220 g dairy free cream cheese, I used a combination of Violife and Sainsbury's
50 g dairy free spread, I used Flora
55 g icing sugar
1 tsp vanilla extract
For topping
Instructions
First make the cake. Preheat the oven to 180C/fan 160C/gas 4 and grease and line two 20cm diameter round baking tins.
Add the sugar, eggs and oil into a large mixing bowl and mix using an electric whisk until combined, and the mixture has thickened slightly.
Fold in the grated carrot gently using a spatula. The add the flour, baking powder, spices and walnuts to the mix and stir well until combined.
Pour the batter evenly between the two tins and place in the centre of the oven. Cook for around 30-35 minutes until the cakes are nicely risen and a golden-brown colour. Remove and cool on wire racks (wait until the cakes have cooled for around 20 minutes at least, before removing carefully from the tins).
Meanwhile, make the frosting. Add all of the ingredients for the frosting into a large bowl and mix with an electric whisk until blended and smooth.
Pour half of the frosting onto one of the cakes (you may need to trim the cake a little if it has risen slightly, so it sits flat). Spread evenly and then place the second cake on top.
Pour the rest of the frosting onto the cake and smooth all over the top and sides with a spatula. Once finished, pour the chopped walnuts over the top to finish.
Notes
Best kept in the fridge to allow the icing to stay firm. Cool in the fridge for 20 mins/half hour before serving - if you can resist that long!

So there you have it! My gluten and dairy free carrot cake with a dairy free cream cheese frosting! What would you like to see next? I always love receiving your recipe suggestions, so please comment below with what you'd like to see me make next! And don't forget, you can always contact me with suggestions on my
Facebook
Twitter
and
Instagram
pages!