This post may contain affiliate links for which I earn a small commission at no extra cost to you. For more info, check out my Disclosure Policy. Thank you for your support!
My gluten free coffee and walnut cake recipe is another long-overdue classic cake recipe for this blog. Who doesn't love this cake, right?
But for me it has been a bit of an arch nemesis. Something I've been struggling to get exactly right - until now! Because if you ask me, after much experimenting, this gluten free coffee and walnut cake recipe is just incredible!
I know, I know. Big words! But after struggling to get this recipe right for too long, I finally discovered the perfect blend of ingredients to create a cake that is light and fluffy - yet not dry in the slightest. The problem I had was that originally, my gluten free coffee and walnut cakes were coming out a little dense.
But then I made my gluten free chocolate cake recipe with buttermilk and friends, it quite simply turned my world upside-down. In the best way.
Because adding buttermilk to my cakes was making them come out with a texture that was moist yet still really light. It was an absolute revelation!
Which is what makes this gluten free coffee and walnut cake recipe so extra special. I really hope you'll love it as much as I do!
An easy coffee and walnut cake recipe
And don't worry, it's not complicated. This is a basic shove-everything-in-a-bowl-and-mix cake recipe. The best kind! No fancy ingredients or complicated methods over here! I like my gluten free cake recipes to be super easy and user-friendly.
A few things to note: firstly, I used shots of Nespresso to make my cake. I also made sure it was decaf because I didn't want to be up all night after late-night cake-munching sessions!
However, you could easily use instant coffee dissolved in boiling water. That way you can make the coffee flavour as strong as you like! I'd recommend around 3 tbsp of instant coffee dissolved in 100ml of water.
I also used walnut halves in my cake - which I chopped for the sponge but left as they were to decorate. There's really no right or wrong way though!
If you prefer, you could used chopped walnuts to decorate, and likewise you could leave them more chunky in the mix. I just prefer a combination of the two as I think they look so pretty on top like this.
My gluten free coffee and walnut cake recipe
Here it is – my easy peasy gluten free coffee and walnut cake recipe! It's my gluten free twist on this classic recipe and I really hope you enjoy it!
Don't forget to let me know if you make it by tagging me on Instagram or Facebook, or using #theglutenfreeblogger.
Yield: 10
Gluten free coffee and walnut cake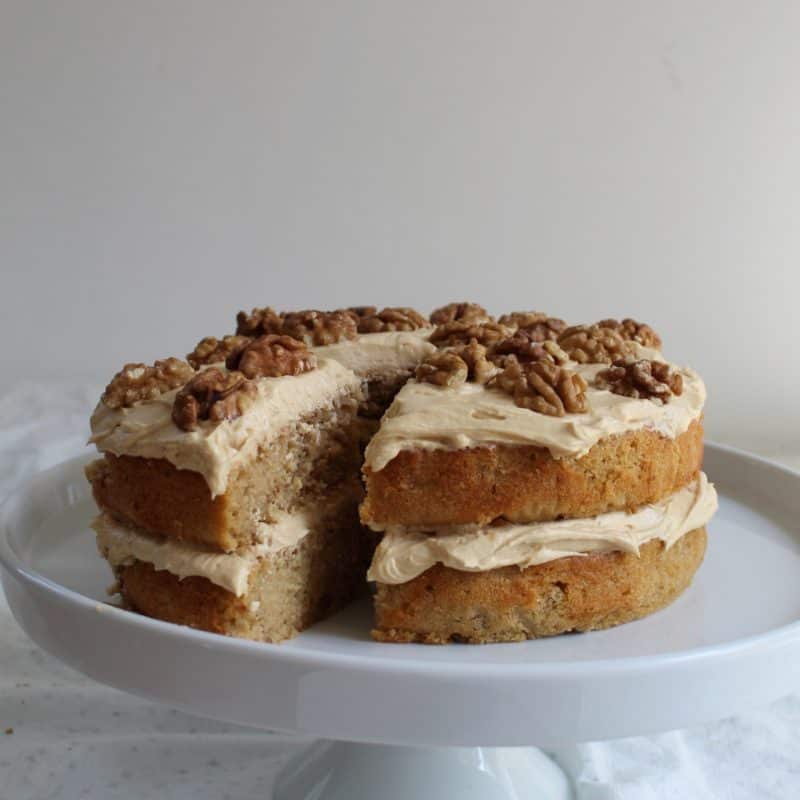 An easy gluten free coffee and walnut cake recipe using buttermilk, with a buttercream frosting.
Ingredients
230 g golden caster sugar
175 g unsalted butter, (softened)
110 ml buttermilk
3 large eggs
60 ml coffee, *see notes
200 g gluten free self-raising flour
¼ tsp xanthan gum
50 g walnut halves, (roughly chopped)
For the icing:
150 g unsalted butter, (room temperature)
250 g icing sugar
30 ml coffee
walnut halves, (to decorate)
Instructions
Preheat the oven to 180'C/Gas 4. Grease and line two 20cm round baking tins and set aside while you make the cake batter.
Add the sugar, butter, eggs, coffee and buttermilk to a large mixing bowl and beat with an electric whisk for 1-2 minutes. Don't worry if it separates a little - it'll come together in the next step!
Sift in the flour and xanthan gum and beat again until smooth. Add the chopped walnuts and fold in. Pour the cake batter evenly between the two tins, smooth the tops and bake in the oven for approx 25-30 minutes. They're ready when a skewer inserted in the centre comes out clean.
Place the cake tins on a cooling rack for approx 10 mins, then turn out the cakes and remove the paper. Let the cakes cool completely on the rack before decorating.
To decorate:
Beat the butter, icing sugar and coffee in a large mixing bowl until smooth. Slather half on top of one of the cakes, then sandwich the second cake gently on top. Spread the rest of the buttercream evenly over the second cake and then decorate with the walnut halves.
Notes
For the coffee I used 3 x Nespresso shots which were 20ml each. You can also make the coffee up to your own strength - I'd recommend approx 3 tbsp per 100ml of boiling water.
Need some more baking inspiration?
If you want to have a go at some of the other gluten free baking recipes on the blog, why not give some of these a try?
If you do make this recipe please let me know! I'd love to see your photos using #theglutenfreeblogger, share them in my Facebook group or tag me on Instagram. And if you have any recipe suggestions, please let me know in the comments what you'd like to see next! Oh – and don't forget to sign up for my e-newsletter where you'll know about all my latest posts and competitions first!