This post may contain affiliate links for which I earn a small commission at no extra cost to you. For more info, check out my Disclosure Policy. Thank you for your support!
Spring is in the air and it's finally starting to warm up, which is why I fancied reintroducing some summer flavours into my kitchen by baking a gluten free lemon and elderflower cake.
I initially had the idea to make a lemon cake, but after hearing that Prince Harry and Meghan Markle had opted for a lemon and elderflower wedding cake, how could I not make one of those!?
And it turns out it's a flavour combination which is pretty damn tasty.
As we head into summer and the elderflower trees begins to bloom, what better to pair its floral taste with than tangy lemon?
Unlike the royal couple, I opted to decorate my cake with candied lemon slices. I love the idea of fresh flowers but looking outside of the window at the rain, it wasn't to be!
Perhaps when the weather is kinder and our elderflower tree is in bloom I can remake this!
So what makes this gluten free lemon and elderflower cake so special?
For starters, it's SERIOUSLY easy to make. It's a basic gluten free sponge recipe with added lemon zest, so you'll get a lovely fresh smell as it bakes.
Then the three sponges are sandwiched together with thick lashings of lemon curd and elderflower buttercream. It's the perfect combination of sweet and tangy and will look fabulous at the centre of the table.
I won't lie, I've iced very few cakes and my icing skills definitely are not up to the standard needed for Meghan and Harry's wedding cake!
However, I kind of like the rustic look this cake has. I think its beauty lies in its imperfections and I love how when you cut into it, the lemon curd oozes out - it's devilishly moreish!
Gluten free lemon and elderflower cake recipe
The video above gives you a brief overview of the recipe steps, and here's the full recipe below...
Gluten free lemon and elderflower cake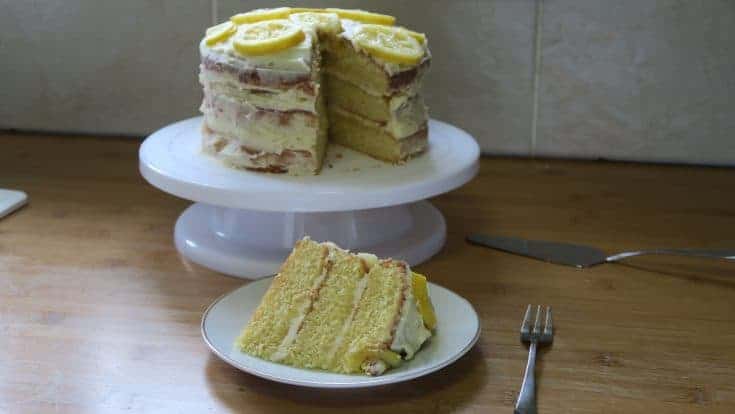 This gluten free lemon and elderflower cake is the perfect combination of sweet and tangy, with a lovely floral twist - perfect for a royal wedding!
Ingredients
For the cake
340 g unsalted butter
340 g white caster sugar
340 g gluten free self-raising flour, I used Dove's Farm
6 large eggs
Zest of 3 large lemons
Pinch salt
For the icing
350 g icing sugar
175 g unsalted butter
50 ml elderflower cordial
For the candied lemons
1 large lemon
½ cup white caster sugar
Juice of one lemon
½ cup water
Additional
Half a jar of good-quality lemon curd
Instructions
Firstly make the cake. Preheat the oven to 180'C/Gas 4 and grease and line three 6-inch baking tins. Set aside.
Add the sugar and butter to a large mixing bowl and beat with an electric mixer until smooth. Add the eggs one at a time, beating each time. With the last egg add a little of the flour to stop it curdling.
Add the rest of the flour and the lemon zest, mix well and then split between the three cake tins. Smooth and place in the centre of the oven to cook for 30-35 minutes until golden and you can pull a knife out from the centre clean.
Meanwhile, make the candied lemons. Slice the lemon into ⅛th of an inch slices. Pour the sugar, lemon juice and water into a large pan and heat until boiling. Turn down to a simmer and add the lemon slices to form one layer on the bottom of the pan. Simmer gently for around 15 minutes. Remove from the pan onto greaseproof paper and chill for an hour.
Remove the cooked cakes from the oven and cool on a wire rack. You want them to be completely cool before icing, so give them an hour at least. Once cool, trim the tops from two of the sponges so they are flat on the top and bottom using a bread knife.
Make the buttercream next. Add the icing sugar, butter and elderflower cordial to a large bowl and beat well until it comes together into a smooth frosting. Now it's time to construct the cake!
Place the first sponge on a flat surface and cover with a thick layer of lemon curd (approx 1-2 tablespoons). Smooth ⅓ of the frosting onto the second sponge, turn upside down and place on top of the lemon curd. Press down gently, then repeat with the next layer using the same quantities of lemon curd and frosting.
Using a spatula, spread the remaining buttercream over the top of the cake, and smooth around the sides. You can make a little extra if you want your cake completely covered, or you can leave it 'semi-naked' like my cake!
Decorate the top of the cake with the candied lemon slices however you desire, and your cake is ready to be enjoyed with a cup of tea. How very quintessentially British!
Notes
If in season, you could also decorate this with some fresh sprigs of elderflower as well.
There you have it, my super tasty gluten free, triple-layer lemon and elderflower cake!
I'd love to see your creations if you give this a go – you can share them in my Facebook group or tag me on Instagram! I'll always share your photos when you make my recipes!