This post may contain affiliate links for which I earn a small commission at no extra cost to you. For more info, check out my Disclosure Policy. Thank you for your support!
This post is sponsored by Mash Direct.
I think a gluten free brunch is the best meal in the world. There's something about the indulgence of a second breakfast that makes it so deliciously decadent. So when Mash Direct sent me some of their amazing gluten free products and asked me to come up with a recipe, brunch was the first thing on the agenda.
I really was spoilt for choice as to what to make - Mash Direct has a whole line of products and trying to decide which one to try first was difficult! I had potato rosti, vegetable bakes, potato croquettes, beer battered chips and a cauliflower cheese gratin to choose from. And all gluten free too!
The gluten free cauliflower cheese gratin got swiftly swept into a roast dinner for Mother's Day and the gluten free beer battered chips went perfectly with a gluten free steak pie for a quick dinner. I loved how easily I could use these products - you can literally buy them in the chiller aisle, stick them in the fridge and then whack them straight in the oven.
My gluten free brunch stack recipe
But for me, it was an obvious choice for my gluten free brunch recipe - it had to be the gluten free potato rosti. I was day dreaming about the different combinations I could use to create the ultimate brunch stack! The thing is, this recipe is merely a suggestion because the products are so easy to cook and so versatile, you could mix it right up!
I know bacon would be a bit more traditional - and you could easily switch the chorizo for lardons - but I really wanted this to be a bit spicier. With the fresh chillis it was just right! I love how the creamy avocado works with the crispy outer of the potato rostis, it is just the ultimate brunch combination!
Yield: 2
Gluten free potato rosti brunch stack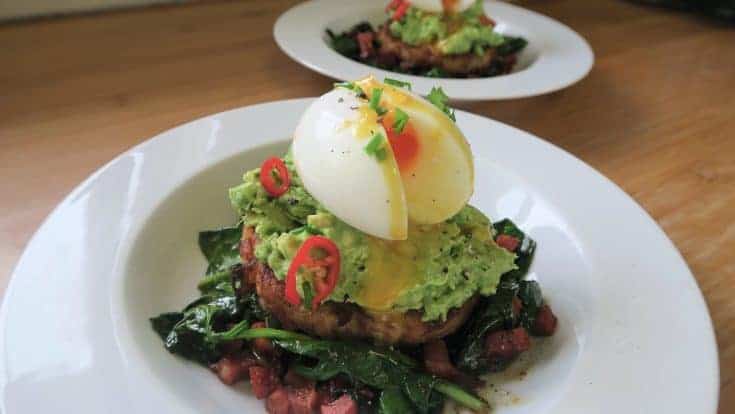 These gluten free brunch stacks are the ultimate weekend treat - a delicious potato rosti with spinach, chorizo, avocado and a soft boiled egg. Perfect!
Ingredients
2 Mash Direct potato rosti
2 handfuls baby spinach
75 g chorizo
½ tsp coconut oil
1 large ripe avocado
Juice ½ lemon
1 fresh red chilli
2 large eggs
Chopped chives to garnish
Salt and pepper
Instructions
Preheat the oven and cook the Mash Direct potato rosti as per the instructions on the pack. Meanwhile make the rest of the components.
Heat the coconut oil in a pan on a gentle heat, add the chorizo and fry for 2-3 minutes. Add the spinach and cook gently until wilted.
Scoop the flesh from the avocado and place in a food processor with the lemon juice and salt and pepper until relatively smooth (I like a few chunks!).
Soft boil the eggs by putting them into boiling water for six-and-a-half minutes. Remove immediately and place into cold water before peeling.
Assemble your stack! Divide the spinach and chorizo between two plates, then top with the rosti. Spread the avocado on top, top with the boiled egg and sprinkle with chives and chopped chilli to serve, and some extra salt and pepper.
So many gluten free options
I really hope you'll give this gluten free brunch stack a go and please let me know if you do! I love seeing your creations and especially when you add your own twist! I would definitely recommend testing out the Mash Direct products - you can find them in the chilled free from aisle in Morrison's.
Oh, and don't forget, why not join my new Gluten Free Blogger Facebook Group and post a photo in there? Come on over and say hello, it's a lovely group with some amazing people sharing their gluten free tips and tricks!