This post may contain affiliate links for which I earn a small commission at no extra cost to you. For more info, check out my Disclosure Policy. Thank you for your support!
This post is sponsored by Nutri-Brex.
Gluten free breakfast ideas can often be hard to come by, but breakfast is my absolute favourite meal of the day and I like to make it as exciting as possible. Whether you're after a leisurely brunch with breakfast muffins and crumbles, a quick breakfast smoothie or breakfast bar to eat on-the-go, or even some post-workout protein pancakes, there are so many different choices.
This is why I've teamed up with Nutri-Brex to show how much fun breakfast can be! Nutribrex challenged me to come up with some different gluten free recipe ideas using their 5 Ways Granola.
The Nutri-Brex granolas come in two flavours: hazelnut, coconut and quinoa (aka the green one!) and honey, almonds and seeds (aka the yellow one!). They are hugely versatile and you can also enjoy them in other ways, such as in a bircher pot or simply in a bowl with milk.
My gluten free breakfast ideas
I've used the Nutribrex 5 Ways to come up with these five gluten free breakfast ideas:
Gluten free breakfast muffins
Gluten free protein pancakes
Gluten free no-bake breakfast bars
Gluten free berry smoothie
Gluten free breakfast crumble
Gluten free breakfast muffins
A deliciously light and fluffy muffin, made with Nutri-Brex 5 Ways granola, and great for a gluten free breakfast on-the-go.
Ingredients
2 large eggs
150 ml low fat yoghurt
50 ml rapeseed oil
160 g pureed apple
4 tbsp honey
1 tsp vanilla extract
1 tsp cinnamon
200 g gluten free self raising flour
50 g Nutri-Brex 5 Ways Granola with honey, almonds and seeds
1.5 tsp bicarbonate of soda
Extra granola for sprinkling
Instructions
Preheat the oven to 180'C/Gas 4. Line a muffin tin with large muffin cases, or use silicone cases as I have in this recipe.
In a large mixing bowl, add the eggs, yoghurt, oil, vanilla and honey and apple puree. Mix well until combined.
Add the flour, bicarb, granola and cinnamon to the mixture and mix for a few seconds until it is a smooth batter.
Once mixed, divide the mixture between the muffin cases and sprinkle each one with a little extra granola.
Bake for 20 minutes until golden brown and then allow to cool on a rack before eating.
Notes
Can be stored in a sealed container for around three days.

Yield: 3
Gluten free breakfast crumbles
These gluten free breakfast crumbles are quick to make and delicious enjoyed hot or cold.
Ingredients
3 conference pears
Juice ½ lemon
1 tbsp honey
1 tsp cinnamon
150 g Nutri-Brex 5 Ways Granola with hazelnut, coconut and quinoa
Instructions
Peel and chop the pears and add them to a saucepan with the lemon juice, honey and cinnamon. Simmer for around 15-20 minutes until soft.
Place in a ramekin and then top with the Nutri-Brex granola.
You could bake these for an added crunch for around 10 minutes, or also enjoy them cold as a snack.
Yield: 1
Gluten free protein pancakes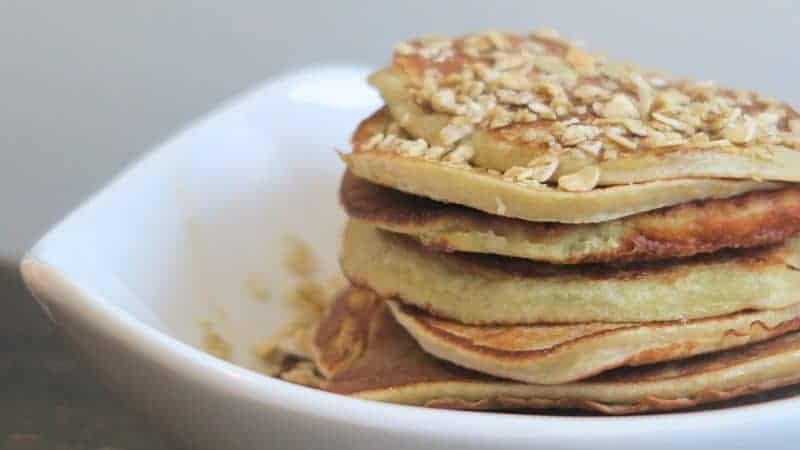 These gluten free protein pancakes are perfect for a post-workout treat, or a quick and easy breakfast.
Ingredients
2 large eggs
1 ripe banana
15 g unflavoured whey protein powder
30 g Nutri-Brex 5 Ways Granola
Coconut oil for frying
Instructions
Add all of the ingredients (except the oil) to a blender and blend until smooth.
Heat the coconut oil in the pan and then fry small portions of the mix into American-style pancakes.
Stack and top with extra granola and maple syrup.
Want more inspiration? Click here to go back to the top.
Find Nutri-Brex 5 Ways in Tesco, Sainsbury's, Waitrose, Asda, Morrisons, Ocado and more. To find a stockist near you, visit their website here.