This post may contain affiliate links for which I earn a small commission at no extra cost to you. For more info, check out my Disclosure Policy. Thank you for your support!
This post is sponsored by Waitrose.
Quick and easy gluten free lunch ideas can often be hard to find. But when you're prepping your lunch ahead of time, I think nothing beats a gluten free pasta dish. You can either eat it hot, straight from the pan, or take it to work in a Tupperware and heat it through – or enjoy it cold. Pasta is just so versatile!
That's why I've teamed up with Waitrose to showcase their Good Health products, which help make healthier choices easier, to come up with not one but two quick and healthy gluten free pasta recipes. I loved the look of Waitrose's gluten free green pea and red lentil pastas, which I found in their Free From aisle.
I think food should be fun and it took me right back to being a kid and eating multi-coloured dinosaur pasta! These gluten free pasta dishes are a little more grown up, but as well as using a range of fresh, healthy ingredients, they are colourful and fun too.
I decided to use the colours of the gluten free pasta for inspiration in these two lunch ideas. For the green pasta, I create a simple, home-made pesto and teamed it with hot smoked salmon and charred broccoli, for a super healthy lunch packed with protein and Omega 3.
With the red lentil pasta I created a rich tomato and chilli sauce with fresh basil, which is also vegetarian and dairy free. You'll get a couple of portions of your five-a-day with each dish, but don't be afraid to experiment and throw in some extra veg if you like. It's all about having fun with your food!
I hope you enjoy these two ideas for a gluten free lunch. Having coeliac disease shouldn't mean having to miss out on fun meals. You shouldn't be sacrificing on flavour or settling for salad every day. I think these are perfect combination of bold flavours, fresh, healthy ingredients, and fun colours. I hope you enjoy them!
Yield: 2
Pesto green pea pasta and broccoli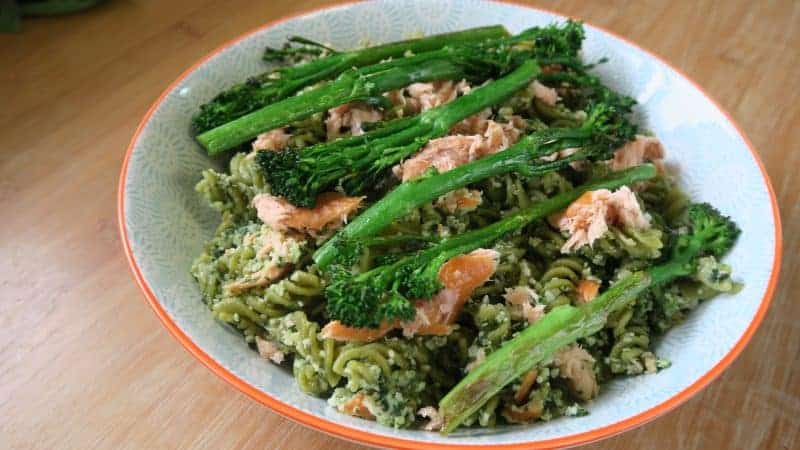 This simple pesto is perfect paired with hot smoked salmon and green pea gluten free pasta - topped with charred broccoli it's healthy and delicious.
Ingredients
150 g Waitrose green pea pasta
Half pack tenderstem broccoli
1 tsp coconut oil
1 pack hot smoked salmon flakes
For the pesto
Bunch fresh basil
1 clove garlic
4 tbsp virgin olive oil
50 g parmigiano reggiano shavings
40 g pine nuts
Juice of half a lemon
Salt and pepper
Instructions
Cook the pasta as per the instructions (in salted boiling water for 5 minutes for al dente, 6-7 minutes for a little softer).
Meanwhile make the pesto by adding all of the ingredients into a food processor. Blend until reasonably smooth and set aside.
Steam the tenderstem broccoli for one minute then remove from the steamer. Heat the coconut oil in a frying pan until hot, then add the broccoli stems. Fry for 1 minute or two on each side until they start to get some colour.
Once cooked, drain the pasta and add to a pan with the pesto. Add the salmon flakes and mix well. Serve in a bowl with the charred broccoli on top or on the side.
There you have it, two super easy gluten free pasta dishes to brighten up your lunchbox! But which one will you make first? I'd love to see your creations if you give this a go - you can share them in my Facebook group or tag me on Instagram!