This post may contain affiliate links for which I earn a small commission at no extra cost to you. For more info, check out my Disclosure Policy. Thank you for your support!
I've been wanting to have a go at making gluten free mug cakes for ages, so when I had some leftover Cadbury's caramel eggs, I thought why not try a gluten free caramel egg mug cake!?
With rich, delicious chocolate and a gooey caramel centre, what is there not to love about this treat? Oh - and if that isn't enough, you can whip the whole thing up in just five minutes!
Having now lost my mug cake virginity, I cannot believe I haven't made these sooner. Just make up a super quick batter, pour it into a mug and zap it in the microwave for a minute and boom! Done! I think I put off making them because I thought it just couldn't be that easy. But it really is.
Doing some research, I found a lot of people had already made Creme Egg mug cakes. As I had already made gluten free Creme Egg brownies I was desperate to make something with Cadbury's caramel eggs! These are actually my favourite of all the eggs, and they're gluten free too. A chocolate mug cake with a caramel egg centre just seemed the perfect combination.
Tips for the perfect gluten free mug cake
The basic batter for this gluten free caramel egg mug cake is pretty much the same as a standard cake, except I've made it egg free. When researching for this recipe, it seemed odd to me that so many gluten free mug cake recipes used a whole egg. You put an egg or two in a normal cake mix, so that seemed a lot for one mug's worth!
I had a look around and it turns out many people make it without egg anyway. A good thing about this is that you don't have to overcook the batter.
I like my gluten free mug cakes to be a little molten inside still. No egg is definitely the answer. I used butter in my mug cake recipe but you could also use vegetable oil or a dairy free substitute if you wanted to make it gluten and dairy free!
The only issue with making it dairy free would be the caramel eggs. I've tried this mug cake without them and it's just as delicious, or you could find some dairy free eggs and use them in the centre instead.
My gluten free caramel egg mug cake recipe
So here it is, the most decadent, delicious and speedy Easter recipe around! The recipe makes one mug cake. For two people, just double it and divide between two mugs, or triple it for three - you get the gist!
I placed half the caramel egg in the cake to cook, so you get a gooey centre, and then the other on top. You could place them both on the top before cooking so they are a caramel surprise when you scoop into the cake though!
Also, my microwave is an 800 watt microwave, so you may need to adjust the cooking times slightly. Unlike an oven cake, it doesn't matter if you open the door, the mug cake will just rise back up as soon as you start cooking, so don't worry about checking up on it.
Yield: 1 person
Gluten free caramel egg mug cake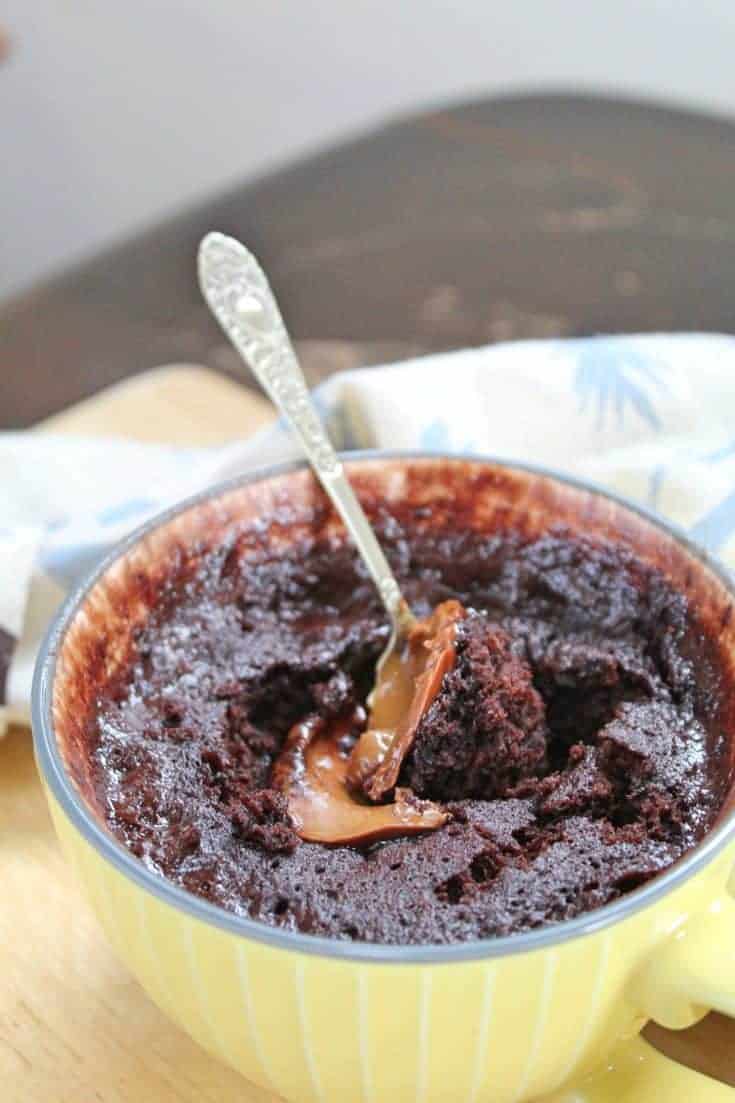 This gluten free caramel egg mug cake recipe is super easy and is ready to eat in less than five minutes! Egg free and can be adapted to dairy free too!
Ingredients
28 g butter, (2 tbsp)
32 g plain gluten free flour, (4 tbsp)
56 g caster sugar, (4 tbsp)
16 g cocoa powder , (2 tbsp)
¼ tsp baking powder
45 ml water, (3 tbsp)
1 Cadbury's caramel egg, (cut in half)
Instructions
Add the flour, sugar, cocoa powder and baking powder to a bowl and mix well.
In a separate bowl, melt the butter in the microwave for 30 seconds. Add the water to the butter mix. Sift the dry ingredients into the bowl.
Mix well until you have a smooth batter, then pour into a microwave-proof mug. Place one half of the caramel egg on top and microwave for 60 seconds.
Place the second half of the caramel egg on top of the cake and microwave for another 20-30 seconds. Remove from the microwave, cool for a couple of minutes and then eat.
Notes
This recipe cooking time is for an 800 watt microwave, so you may need to adjust accordingly. This is for a cake which is firm on top but a little molten still inside and around the very edges. If you overcook it, it might go rubbery so just keep going a little at a time for the perfect texture. 
Hungry for more gluten free recipes?
If you're after some more gluten free treats to make in time for Easter, why not try some of my other gluten free Easter recipes?
If you do make this recipe please let me know! I'd love to see your photos using #theglutenfreeblogger, share them in my Facebook group or tag me on Instagram. If you have any recipe suggestions, please let me know in the comments what you'd like to see next! Oh – and don't forget to sign up for my e-newsletter where you'll know about all my latest posts and finds!