This post may contain affiliate links for which I earn a small commission at no extra cost to you. For more info, check out my Disclosure Policy. Thank you for your support!
Picture the scene: Thick, sweet peanut butter glaze dripping down a freshly baked, super light doughnut; the delightful crunch of the peanut pieces as you bite into it - and all gluten free, dairy free, wheat free, egg free and vegan.
Yes, my friends, today I bring a little slice of HEAVEN with these amazing gluten free maple peanut glazed doughnuts. And to make it even better, they are less than 200 calories each, refined sugar free, and a perfect pre- or post-workout snack if you're craving the sweet stuff.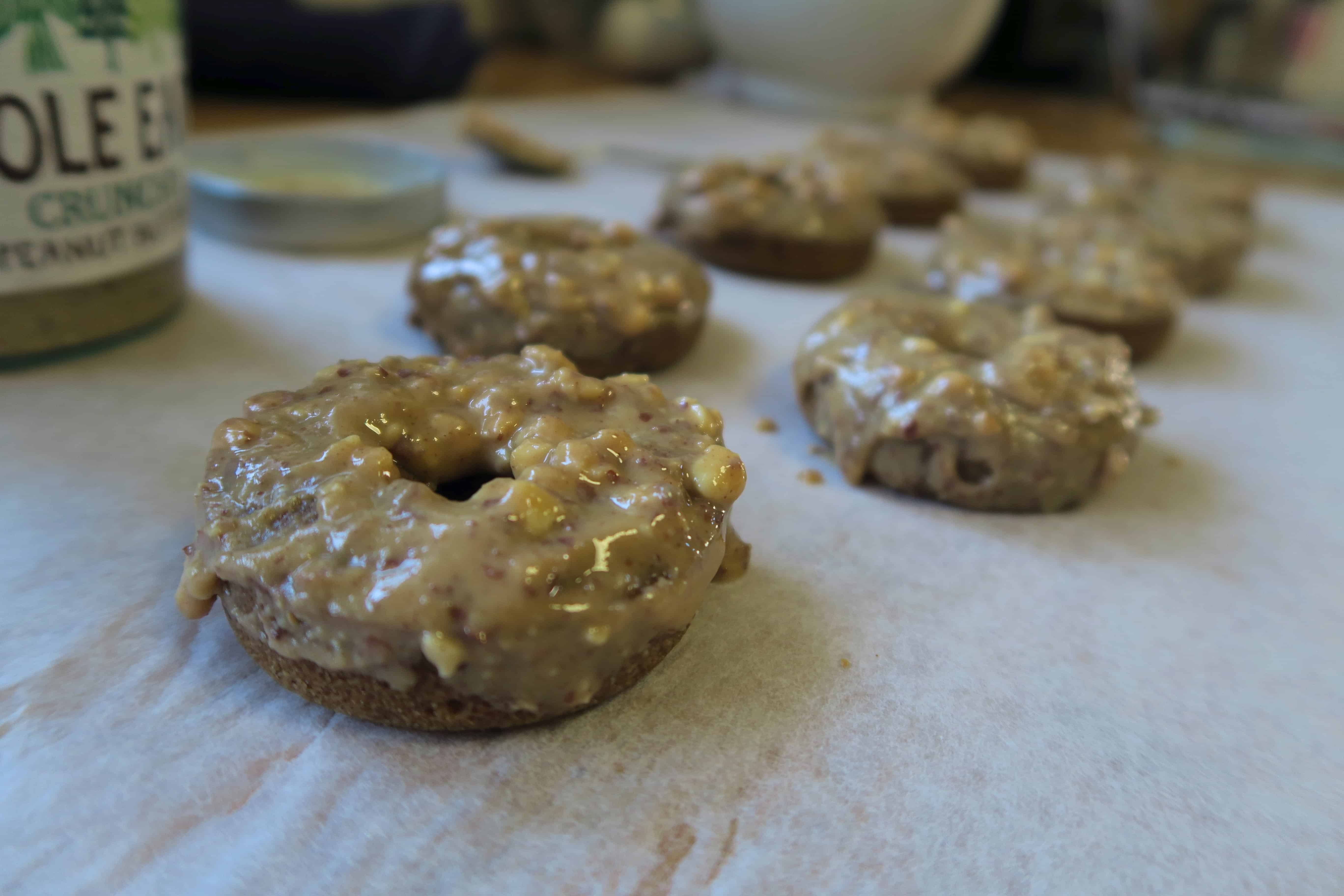 I've been meaning to buy a doughnut tin for AGES, after me and Lauren made Christmas doughnuts as part of Vlogmas - so when I found one half price in Sainsbury's this week, that was that.
In fact, this recipe is loosely based off the doughnuts Lauren and I made before from her own recipe, which you can find here. I used the same sort of base, but substituted a few ingredients. I used a chia seed egg replacement rather than flaxseed as it was all I had, and I thought it added a great texture to it.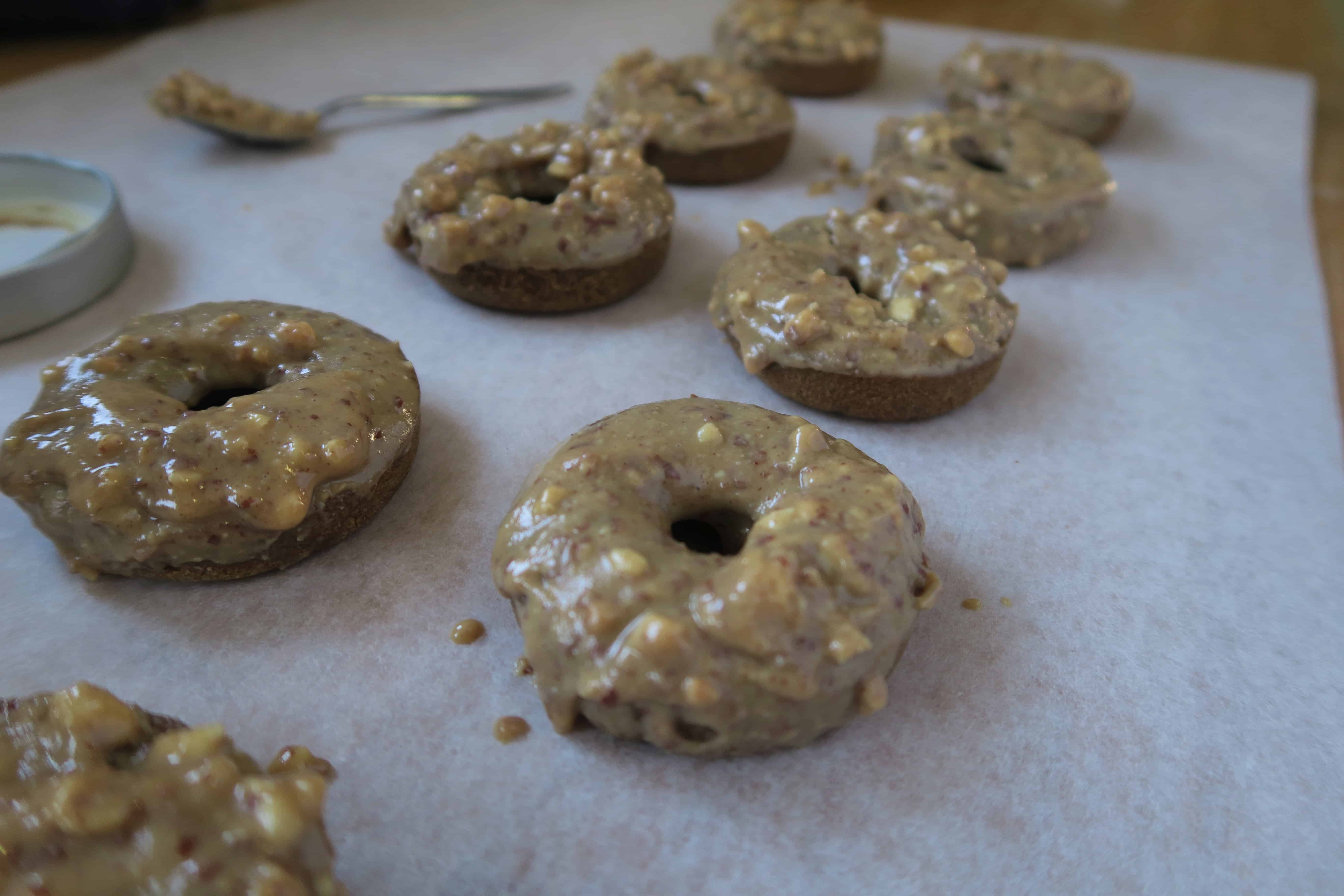 I decided to try teff flour instead of buckwheat - and I was really pleased with the result. I have never used teff before, it's an 'ancient grain' which is gluten free, and I bought some of it by Dove's Farm to try. It has a nice taste and texture, which worked well in this recipe.
I also knew I wanted to create something involving nut butter for the glaze! It had to be sweet and sticky and after a few failed experiments (which ended up in the bin) and burning my tongue (why lick the spoon when you KNOW it's hot!?) I have cracked it with this simple maple peanut butter glaze. I could just eat it on its own!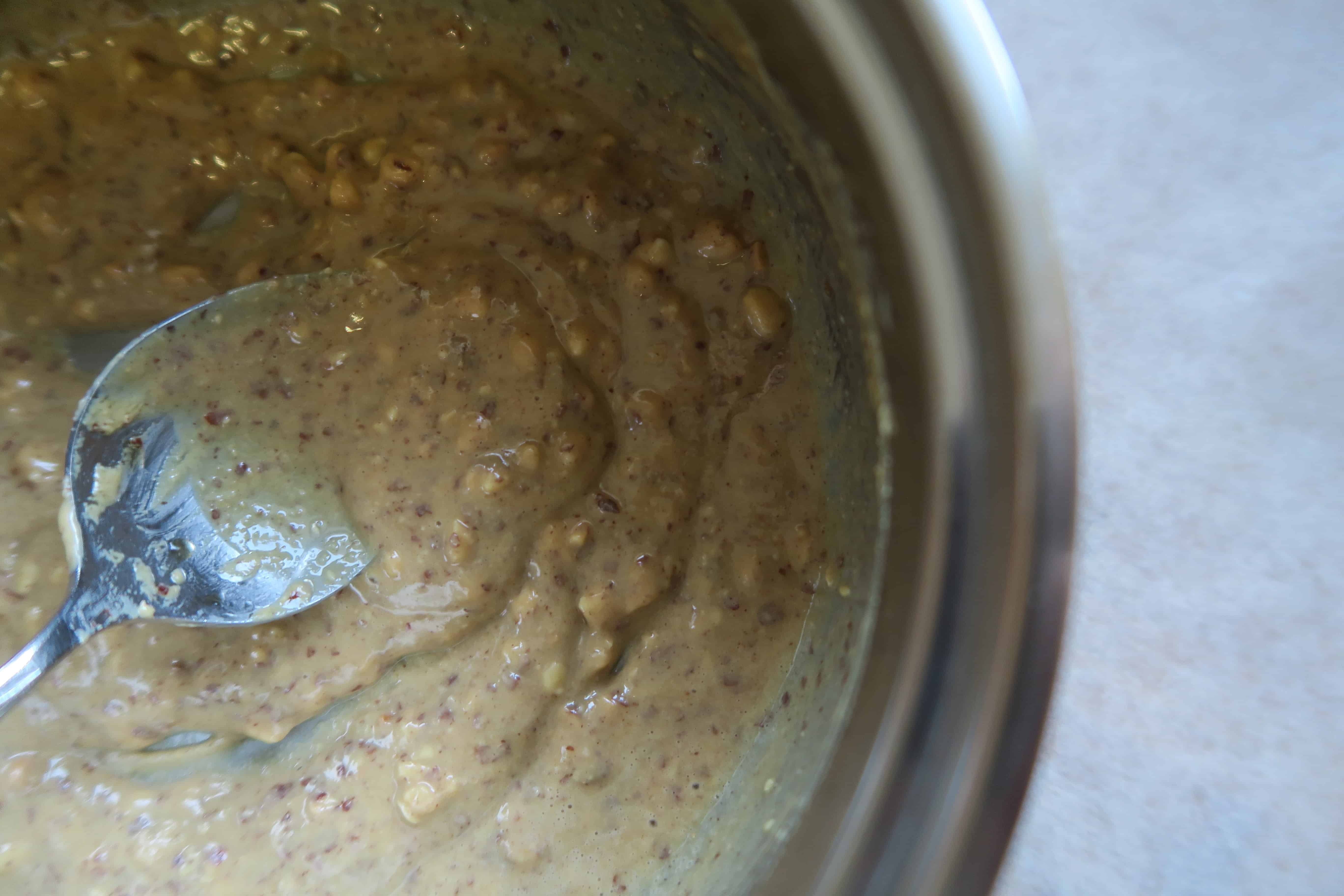 I can't wait to make more doughnuts over the coming weeks - this recipe has me well and truly hooked and I'm already thinking of some new and exciting flavour combinations to test out. They are so much easier to make than I thought which is great. What flavours would you like to see next? Leave me a comment below and let me know!
Yield: 9
Gluten free & vegan maple peanut glazed baked doughnuts
Macros per serving (for 9 doughnuts): 190 cals; 11.5g fat; 22g carbs (12.7g sugar); 3.5g protein. Gluten free, egg free, dairy free, wheat free, vegan.
Ingredients
For the doughnuts
1 tbsp chia seeds
4 tbsp water
120 g teff flour, I used the gluten free Dove's Farm teff flour here
75 g coconut sugar
1.5 tsp baking powder
1 tsp cinnamon
30 g coconut oil
½ cup almond milk
1 tsp vanilla extract
½ tsp apple cider vinegar
For the glaze
1 tbsp maple syrup
1 tbsp coconut oil
2 tbsp Whole Earth crunchy peanut butter
Instructions
Preheat the oven to 180'C / Gas 4 /350'F.
Place the chia seeds in a mug and cover with the water. Stir well and set aside for 15-20 minutes – this will form a thick and gloopy paste which makes a fabulous, vegan-friendly egg replacer.
Mix all of the dry ingredients (flour, coconut sugar, baking powder, cinnamon) in a large mixing bowl.
In a saucepan place the coconut oil, almond milk, apple cider vinegar and vanilla extract. Put on a low heat until the coconut oil has melted – you don't want it to bubble or boil, so remove from the heat as soon as it's all liquid.
Add the chia/water mix into the dry ingredients and stir through. Then add the wet ingredients to the dry, and mix well to form a thick batter.
Lightly grease a doughnut tin with a little coconut oil to ensure the mixture does not stick. Fill each doughnut hole with around 2 tbsp of the batter, making sure you leave the hole in the middle.
Bake in the oven for around 8 minutes – I had to do mine in two batches as I only had one, six-doughnut tin. This mixture should make around 10 doughnuts, unless you're like me and eat half of the batter before it even makes it to the oven…
Allow the doughnuts to cool in the tin for a couple of minutes before using a knife to gently remove them onto a wire cooling wrack. Leave to cool completely.
Meanwhile, make the glaze. Add the peanut butter, maple syrup and coconut oil to a pan and heat gently. Stir often so that it combines to form a thick glaze, and once heated remove from the heat and allow to cool for a minute or two.
Dip the doughnuts into the glaze, ensuring a neat covering. You may need to dip them twice – leaving to set a bit in between – or I used a spoon to distribute the rest of the glaze between doughnuts. Because I used crunchy peanut butter, this was easiest, but smooth peanut butter would create an easier dipping system!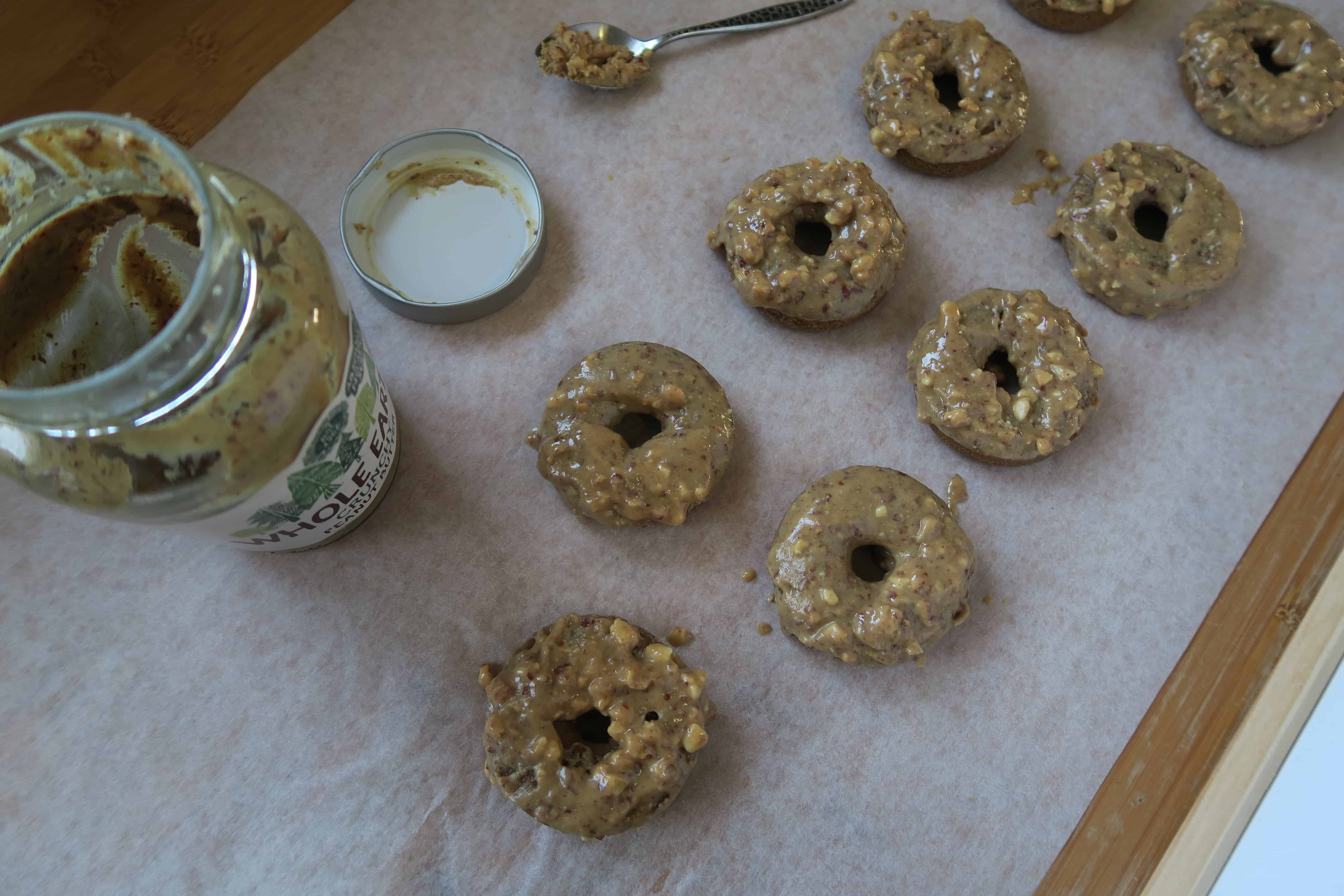 What are your favourite doughnut toppings and flavours? If you make these doughnuts or have a recipe to share, make sure you follow me on Facebook, Twitter or Instagram and tag me in your creations - I love seeing them!
Don't want to make these now? Pin the recipe for later: