This post may contain affiliate links for which I earn a small commission at no extra cost to you. For more info, check out my Disclosure Policy. Thank you for your support!
Christmas is approaching FAST and if you're anything like me, you'll have been totally disorganised and left an advent calendar right until the last minute!
But when you're gluten or dairy free, this can make things tricky - as most advent calendars contain dairy and many have the dreaded 'may contain' warnings for gluten, which leaves you wondering if it's worth risking it for a chocolate treat every day.
To make things a little easier, I've reviewed a few of the main gluten and dairy free advent calendars on the market on my Youtube channel, which you can watch here - and scroll down further for a few more options which are a little different!
Find out more about the brands above as well as some other free from advent calendars which I think are worth checking out!
Moo free gluten and dairy free advent calendar
This cute Christmas calendar by Moo Free is free from loads of different allergens - including gluten, dairy, soya and GM products, as well as being vegan.
You can find them in Sainsbury's and I thought they made a great alternative to a milk chocolate advent calendar.
The design is very child-friendly too, meaning nobody misses out on the fun - coeliac or dairy intolerant!
Holland & Barrett free from advent calendars
The two advent calendars by Holland and Barrett reviewed in the video above are both great options for those avoiding gluten and dairy.
The red one is soya-based while the blue one is soya free (but may contain traces).
They both have lovely festive designs and while I wasn't so keen on the taste of soya, I think they'd be perfect for someone used to soy-based products.
English Tea Shop advent calendar
I found this great idea in TK Maxx and thought it was brilliant for anyone avoiding chocolate this Christmas.
This chocolate-free advent calendar instead features a different tea bag each day, in these cut little boxes.
It has a very traditional look and it a proper advent calendar for grown-ups, I'm a bit gutted I didn't buy this in the end!
Thorntons continental advent calendar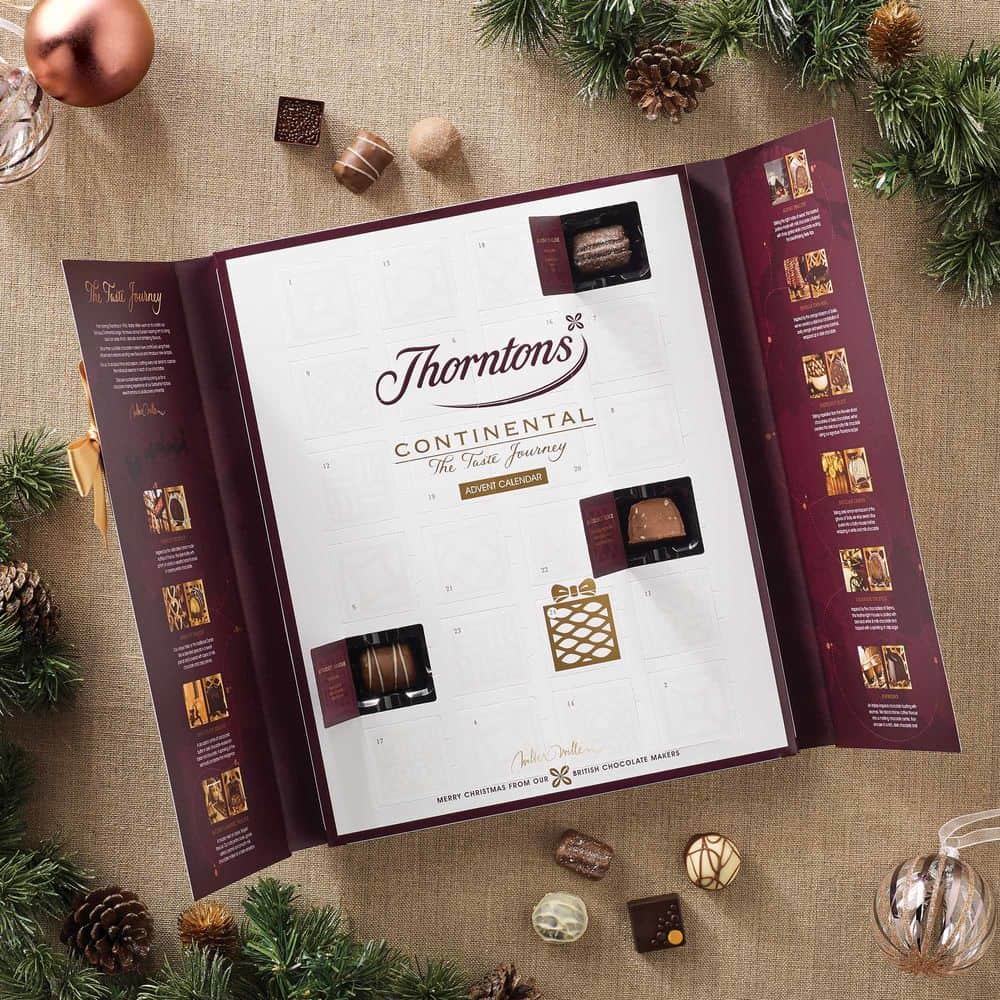 While this one does contain milk, this chocolate advent calendar from Thorntons appears from the ingredients list to be gluten free.
This is marketed as an 'advent calendar for grown ups' and I can see why - it's super stylish and guaranteed to satisfy the biggest chocolate fans.
Chocologic free from advent calendar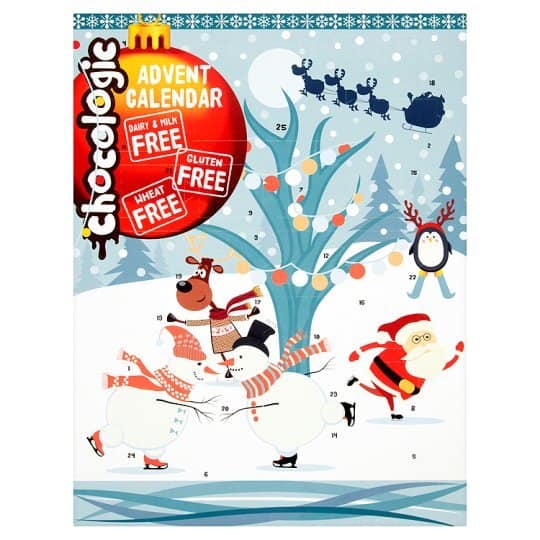 I haven't seen this Chocologic advent calendar before but it seems to have appeared in Tesco this year and is gluten free, wheat free and dairy free.
I love the skating character design and think this would look fab sat on the mantlepiece! At RRP £2.50, it's also one of the cheapest options out there.
Need more inspiration?
This is by no means all the gluten and dairy free advent calendars out there - just a selection of some which I have tried and others I think looked awesome. For a more extensive lists, visit Free From Heaven's round up here.
Many of the supermarkets have their own brand free from advent calendars, and some of the 'normal' mainstream ones are gluten free anyway - so it's always best to check.
Have you bought your advent calendar yet? Have you found one not on the list? Comment below and let me know or share them on my  Facebook, Twitter or Instagram pages - and please subscribe to my Youtube channel as I'll be launching Vlogmas this week!!