This post may contain affiliate links for which I earn a small commission at no extra cost to you. For more info, check out my Disclosure Policy. Thank you for your support!
This post is sponsored by Juvela.
It's British Sandwich Week this week, and let me tell you, a decent gluten free sandwich is often hard to come by! But find the right gluten free bread and you can create a thing of beauty. In honour of this week, I thought I'd pay homage to my first ever job working in a sandwich shop with my best friend Lauren. Cue embarrassing photo....
I have many fond memories of my time at CJ's and I think some of the most popular orders of regular customers will stay in my mind forever. To celebrate British Sandwich Week, I've teamed up with Juvela to recreate three of my favourite gluten free sandwich fillings from my teenage Saturday job. Scroll down for all three recipes!
Juvela's gluten free bread really is great for sandwiches. Unlike other brands, I never find holes in their loaves and the bread is soft and tasty. I actually enjoy eating Juvela gluten free bread without toasting it, which says a lot!
The first gluten free sandwich I wanted to recreate was a gluten free coronation chicken sandwich. This vibrant, mildly spicy dish is a combination of cooked chicken with a mayonnaise-based curry sauce. I like to add flaked almonds and diced apricot for a special twist. When I worked at CJ's I never liked fruit in savoury dishes but now I am a huge fan!
The second gluten free sandwich was an absolute CJ's classic - and one my friends always asked for. Gluten free chicken tikka, cheese and sweet chilli sauce is exactly what it says on the tin! Heated up, it's hot, sweet and spicy. Nothing quite beats biting into a sandwich and melting mozzarella oozing out either!
My final gluten free sandwich is a classic, a gluten free tuna melt. This was always one of the most popular paninis and I must have made hundreds of these in my time working there! Tuna mayo and mozzarella, grilled between two slices of Juvela fibre loaf, is simply delicious. I added a twist with some spiced gherkins in mine after trying this at a cafe once and falling in love!
You can pick up the Juvela sliced breads in Tesco, in both a fibre and white variety, as well as their rolls which are equally delicious. They have also recently launched part-baked gluten free rolls and longlife loaves into Morrisons too! I remember Juvela was one of the first gluten free brands I ever tried when I was diagnosed with coeliac disease, so they have been with me right through my journey with coeliac disease, over 15 years ago! If you live in an area where prescriptions haven't been cut, you can also get their gluten free bread on prescription if you're a diagnosed coeliac.
Gluten free coronation chicken
Spicy, creamy, and with the crunch of flaked almonds and tang of apricot chunks, this sandwich really is a classic. Who doesn't love coronation chicken? I whipped up this super quick gluten free coronation chicken recipe and paired it with crunchy iceberg.
Yield: 2
Gluten free coronation chicken recipe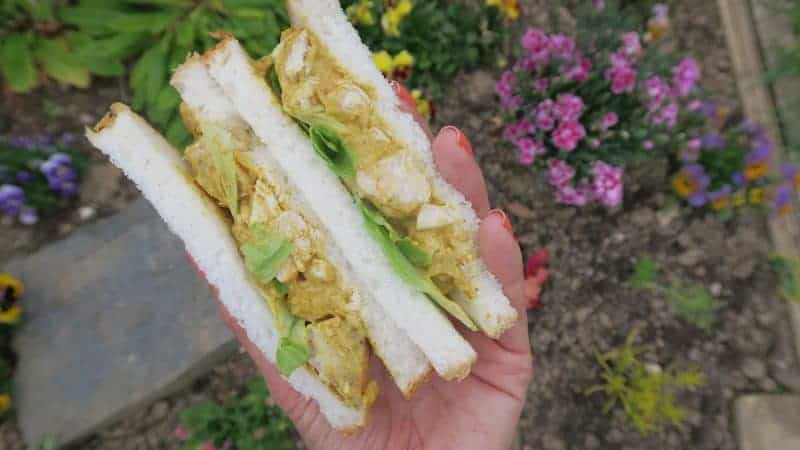 Cooked chicken in a rich and creamy mild curry sauce, with apricot pieces and flaked almonds. I paired mine with iceberg lettuce and gluten free Juvela bread.
Ingredients
1 cooked chicken bread, (chopped)
2-3 tbsp mayonnaise
1 heaped tsp mild curry powder
1 tsp turmeric powder
2 apricot halves, (chopped)
1 tbsp flaked almonds
4 slices Juvela gluten free white bread
Instructions
Add the mayonnaise, turmeric and curry powder to a bowl and mix well until fully combined.
Add the chopped chicken, apricot pieces and flaked almonds to the mayonnaise mixture and mix well.
Serve in gluten free bread to make a delicious coronation chicken sandwich. Perfect paired with iceberg lettuce.
What are your favourite sandwich fillings?
So there you have it, three of my favourite classic sandwich fillings, perfectly matched with Juvela's gluten free bread! I'd love to know what your favourite sandwich fillings are - share yours in the comments below so I can try them out! Make sure you try out the Juvela bread as well because it is one of my absolute favourites! And if you do, why not try out my gluten free French toast recipe using their bread as well - it's the dreamiest gluten free brunch ever!