This post may contain affiliate links for which I earn a small commission at no extra cost to you. For more info, check out my Disclosure Policy. Thank you for your support!
I don't know about you, but I always find myself going into Costa and getting serious cake envy. So when I saw they were bringing out a new caramel latte cake I thought, I'm going to make my own gluten free version!
With a light, coffee sponge with a delicious caramel-coffee frosting drizzled with dulce de leche, I'm pretty confident this gluten free coffee cake is THE ONE.
A delicious gluten free coffee cake
It also happens to be UK Coffee Week next week, so I think this cake is the perfect celebration of all the things I love - coffee and gluten free cake!
For those interested, I didn't realise that as well as celebrating the best drink in the world, UK Coffee Week is all about helping raise funds for coffee-growing communities. You can find out more about it here.
But back to the cake! This really is a deliciously easy gluten free coffee cake recipe.
I used shots of coffee from my beloved Nespresso machine, but you could buy espresso shots from the coffee shop or just make a really strong, espresso-sized instant coffee instead.
For me, a coffee cake should be bold in its flavours and that's what I've aimed for with this gluten free coffee cake recipe.
My gluten free caramel latte cake recipe
So move over Costa, because this is definitely the new gluten free coffee cake on the block! If you wanted to mix things up a bit, you could chop up some walnuts and add them to the cake before baking.
Sprinkle some on top and you've got the perfect coffee and walnut cake!
You could also make this recipe dairy free by removing the dulce de leche (you could use dulce de leche flavouring instead) and using dairy free margarine instead of butter.
I love the fact this gluten free coffee cake is so adaptable, which makes it fun for everyone!
Oh, and because I'm counting my macros, I've even worked it out per serving!
If you cut this cake into 10, each serving would be (based on using the dairy-based recipe): 420 cals; 22.8g fat; 52.4 carbs; 1.2g protein. Looks like I'll be saving this for a post-workout treat!
Gluten free caramel latte cake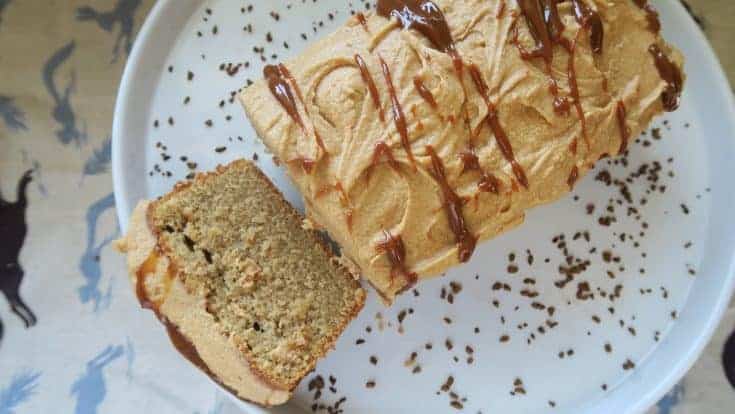 This gluten free coffee cake has an extra special twist with a caramel and espresso frosting, making it delicious for a gluten free afternoon tea.
Ingredients
For the cake
175 g unsalted butter, or dairy free spread
175 g gluten free self-raising flour, I used Dove's Farm
175 g caster sugar
3 large eggs
1 double espresso shot, approx 60ml - see notes
For the frosting
200 g icing sugar
100 g butter, or dairy free spread
1 espresso shot, see notes
1 tbsp dulce de leche, substitute for dulce de leche flavouring for dairy free
Instructions
Grease and line a 2lb loaf tin and preheat the oven to 180'C / Gas 4.
Make the cake by placing all of the ingredients in a large mixing bowl and beat with an electric whisk or wooden spoon until smooth.
Pour the cake batter into the lined tin and bake in the middle of the oven for 35-40 minutes, until a skewer in the centre comes out clean. Remove from the oven and cool on a wire rack.
Once the cake is cool, make the frosting. Combine all of the ingredients in a large mixing bowl and beat with an electric whisk until smooth. Using a spatula, spread over the cake and leave to cool.
Finish by lashing the cake with some extra dulce de leche (heated in the microwave for 30 seconds) - I used a spoon to 'flick' it over the cake. Enjoy!
Notes
For the espresso measure for the cake, I used the 'Luongo' button on my Nespresso which makes about 60ml. For the frosting I used the 'espresso' button which is about 30ml. You could substitute this with the same amount of instant coffee mixed with hot water, made to the strength of your choosing.

This cake would be perfect for a gluten free afternoon tea or party spread! If you want some more cake inspiration, don't forget to check out my
gluten free lemon and elderflower cake
or my
gluten free millionaire's shortbread
too!
I'd love to see your creations if you give this a go – you can share them in my Facebook group or tag me on Instagram! I'll always share your photos when you make my recipes!