This post may contain affiliate links for which I earn a small commission at no extra cost to you. For more info, check out my Disclosure Policy. Thank you for your support!
I'm on a bit of a mission to create easy gluten free dinner ideas at the moment, and it doesn't come much easier than my gluten free tandoori chicken with cheat's pilau rice. Marinaded overnight, you just bung the tandoori chicken in the oven, whip some super quick rice, and dinner is served! I find this a really easy meal to just shove in the oven while I'm busy getting on with other things!
Want to get straight to it? Skip to the recipe.
I always used to buy pre-made marinades for my gluten free tandoori chicken. That is, until I realised just how easy it was to make my own! If you're anything like me, you've probably got a whole cupboard full of spices which you never use. Some of which you don't even know what they are, how they got there, or what on earth to do with them. This, my friends, is the perfect answer!
And if you do buy the spices from scratch, don't worry as it means you can make this gluten free tandoori chicken recipe over and over again! Plus the spices will come in handy for plenty of other recipes too. I tend to try and make recipes using similar ingredients so I can add variety to my diet but also not have to buy a whole shopping list every time I want to cook anything.
An easy gluten free dinner
The best way to make this gluten free tandoori chicken is by marinading it overnight. I use chicken thighs on the bone and with skin for two reasons. Firstly, as they cook the bones add a lovely flavour and secondly, it's way cheaper to do it this way! It's a great way to keep the cost down and the skins go lovely and crisp in the oven. If you wanted to make this with skinless and boneless thigh fillets, just remember to reduce the cooking time as per the pack instructions.
When it comes to the pilau rice, I like to cheat a little. Traditionally you make pilau rice with a combination of spices but I just cook the rice in a light vegetable stock, some mild curry powder and some turmeric for that lovely yellow colour. This makes a tasty rice which is quick and easy. It doesn't involve buying multiple whole spices or having to pick through your rice to get them all out either. There are loads of gluten free stock pots and cubes available - if you're struggling take a look here.
My gluten free tandoori chicken recipe
Okay, enough of me wittering on about chicken bones and spices. It's time to get cooking! Let me know if you give this recipe and don't be put off by the cooking time - most of this time it's just in the oven so you can be getting on with life! The recipe works best if you can marinade the chicken overnight, but a couple of hours will be fine at a push.
Yield: 4 people
Gluten free tandoori chicken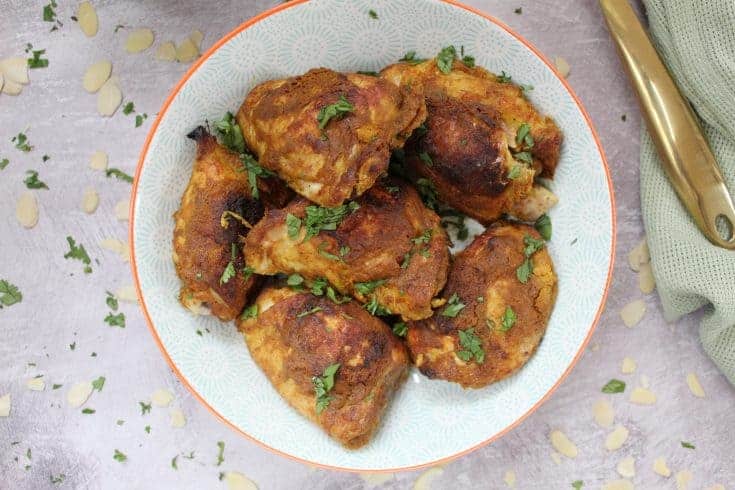 An easy gluten free tandoori chicken recipe with my cheat's pilau rice on the side. The perfect cheap and easy midweek meal idea. For best results, marinade the chicken overnight.
Total Time
12 hours
40 minutes
Ingredients
For the chicken:
8 chicken thighs, (skin on, bone in)
1 lemon, (juice only)
200 g natural yoghurt
4 cloves garlic, (peeled and crushed)
1 2-inch piece ginger, (peeled and grated)
1 tsp garam masala
1 tsp cumin
½ tsp mild chilli powder
¼ tsp ground cinnamon
1 tsp paprika
½ tsp turmeric
For the pilau rice:
200 g basmati rice
500 ml vegetable stock, (I make a light stock with 750ml water per stock cube/pot)
1 tsp turmeric
1 heaped tsp mild curry powder
Optional, to garnish:
Fresh coriander, (chopped)
Instructions
Mix all of the marinade ingredients in a large dish, then add the chicken thighs and mix until completely coated. Cover and, for best results, marinade the chicken overnight - if not, a few hours in the fridge will do.
Preheat the oven to 200'C and place the marinaded chicken thighs in a roasting dish. Cover with foil and cook for 40 minutes. Then, remove the foil and cook for a further 5-10 minutes until cooked through. Serve hot with some fresh coriander.
To make the rice:
Add the vegetable stock, curry powder and turmeric to a small saucepan and bring to the boil. Once boiling, add the rice, stir once, and cover. Turn the heat right down.
Simmer without uncovering for 10 minutes, until the water has absorbed. Remove from the heat, strain any remaining water and fluff up with a fork before serving with the chicken. Top tip: top with some flaked almonds and fresh coriander to serve.
Notes
A great side to this dish is a cool mint yoghurt. To make, simply grind fresh mint leaves into a paste in a pestle and mortar, then mix into some natural yoghurt to taste.
Nutrition Information:
Yield:
4
Serving Size:
1 portion
Amount Per Serving:
Calories:

685
Total Fat:

37g
Saturated Fat:

11g
Trans Fat:

0g
Unsaturated Fat:

26g
Cholesterol:

336mg
Sodium:

847mg
Carbohydrates:

25g
Fiber:

2g
Sugar:

5g
Protein:

66g
Need some more gluten free dinner inspiration?
If you want to have a go at some of the other easy gluten free meal recipes on the blog, why not give some of these a try? Some are vegan, some are dairy free and all of them are gluten free, but they're all delicious!
If you do make this recipe please let me know! I'd love to see your photos using #theglutenfreeblogger, share them in my Facebook group or tag me on Instagram. And if you have any recipe suggestions, please let me know in the comments what you'd like to see next! Oh – and don't forget to sign up for my e-newsletter where you'll know about all my latest posts and competitions first!