This post may contain affiliate links for which I earn a small commission at no extra cost to you. For more info, check out my Disclosure Policy. Thank you for your support!
I've been wanting to make a chocolate orange cake for a long time, so when the idea popped into my head for a gluten free chocolate orange marble cake, I knew I had to make it. The idea of light, zest sponge swirled with chocolate was too good to resist. Add to that a sweet chocolate orange icing and you're basically in cake heaven.
This gluten free chocolate orange marble cake looks super impressive, so surely it's hard to make, right? Wrong! It's actually super easy to get that beautiful swirl and your friends and family will think you've been slaving away for hours. I love a cake which looks really complicated but is actually mega easy - I just don't tell my friends that haha!
I think chocolate orange is the ultimate flavour combination, though it still makes me sad that a Terry's Chocolate Orange isn't coeliac safe. I guess you could call this my cake-sized version of a Terry's Chocolate Orange, but this one is gluten free so it's completely safe!
A great gluten free loaf cake
I've made this gluten free chocolate orange marble cake as a loaf cake as I love how easy they are. That way when you slice it up you get maximum impact from the marble effect. I really love the way the icing pretty much hides the marble effect until you cut it. Hopefully that means you'll get a few 'oohs' and 'ahhs' from your tea party guests!
I think this would be a great gluten free cake recipe to make for an afternoon tea. You could also try this as mini loaf cakes, buns or a round cake, but you may have to adjust the cooking times slightly. In this recipe it's important you make sure there are no big gaps between the splodges of cake batter. I try to dollop them into the cake tin in a checkerboard pattern and make sure they're all touching.
Once I've swirled them, I also bang the cake tin a couple of times on the worktop to get rid of any lurking air bubbles. The first time I made this cake I forgot to do that and it ended up with a massive hole which caved in when I put the icing on top. Needless to say, I've made this cake a few times now to get it right!
My gluten free chocolate orange marble cake
So here it is, my marvellously marbled gluten free chocolate orange cake. Make it for all your friends and sit and marvel at the dreamy swirls! If you wanted to make their dairy free you could easily switch the butter for a dairy free alternative and it would still be amazing! I love seeing it when you make my recipes, so don't forget to tag me on Instagram and use #theglutenfreeblogger if you give this a go!
Gluten free chocolate orange marble cake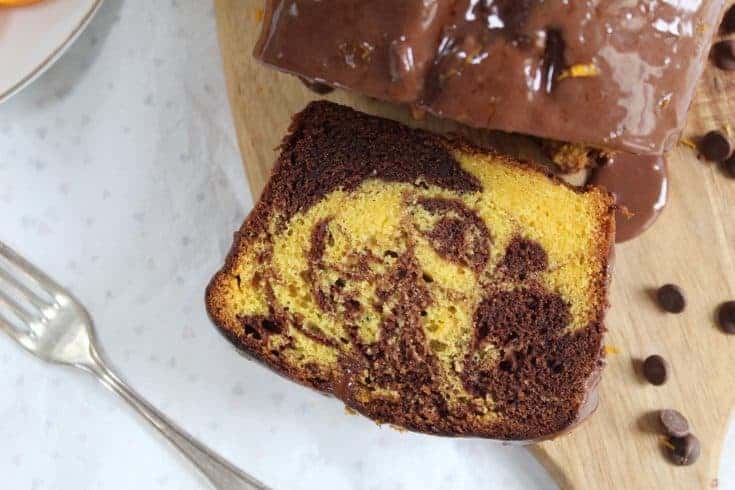 This gluten free chocolate orange marble cake is the perfect sweet treat! Cut into it to reveal the beautiful marble centre. Topped with a chocolate orange icing.
Ingredients
For the cake:
225 g caster sugar
225 g unsalted butter, (softened)
4 large eggs
225 g self raising gluten free flour
Pinch salt
1 tsp baking powder
¼ tsp xanthan gum
2 tbsp milk
3 tbsp cocoa powder
Zest of one orange
1 tbsp orange juice
½ tsp orange extract
orange food colouring
For the icing:
200 g icing sugar
2 tsp cocoa powder
45 ml orange juice
Orange zest , (to decorate)
Instructions
Preheat the oven to 180'C and grease and line a loaf tin. Set aside.
Add the butter and sugar to a large mixing bowl and beat with an electric whisk until smooth. Then add the eggs and beat again until fully combined.
Sift in the flour, baking powder and xantham gum. Add the salt and beat once more until fully combined. Next, take a second large mixing bowl and pour half of the mixture in so you have half in each bowl.
To one bowl, add the milk and cocoa powder and mix until combined with no lumps. To the other bowl add the orange zest, orange juice and orange extract and beat until smooth. Add a couple of drops of orange food colouring to this mix and beat until the mixture is a lovely orange colour - as subtle or as bright as you like!
Using a spoon, place alternating dollops of the mixture in the tin. There doesn't have to be a logical pattern to it but I like to do mine in a sort of checkerboard to ensure they're fairly even. Do this until both mixtures are used up. Try not to leave any gaps as you don't want air bubbles.
Next, take a skewer and run it through the mix, swirling the colours together. Don't over-mix or you'll love the marble effect - just a quick swirl will do nicely. I then like to lightly bang the tin on the worktop to make sure there are no trapped air bubbles.
Place the cake tin in the oven and bake for 45-50 minutes until a skewer in the centre comes out clean. Cool completely on a cooling rack before icing.
To make the icing, beat the ingredients in a bowl together until they form a smooth, thick paste. Spoon the icing onto the cooled cake and smooth out using the back of the spoon. A few drips look good! Sprinkle with some extra orange zest and serve.
Notes
This cake should keep in an airtight container for several days.
Need some more gluten free baking inspiration?
Want to have a go at some of the other gluten free baking recipes on the blog? Give some of these other gluten free cake recipes a try! There are plenty to choose from – here are a couple to get you going:
If you do make this recipe please let me know! I'd love to see your photos using #theglutenfreeblogger, share them in my Facebook group or tag me on Instagram. And if you have any recipe suggestions, please let me know in the comments what you'd like to see next! Oh – and don't forget to sign up for my e-newsletter where you'll know about all my latest posts and competitions first!